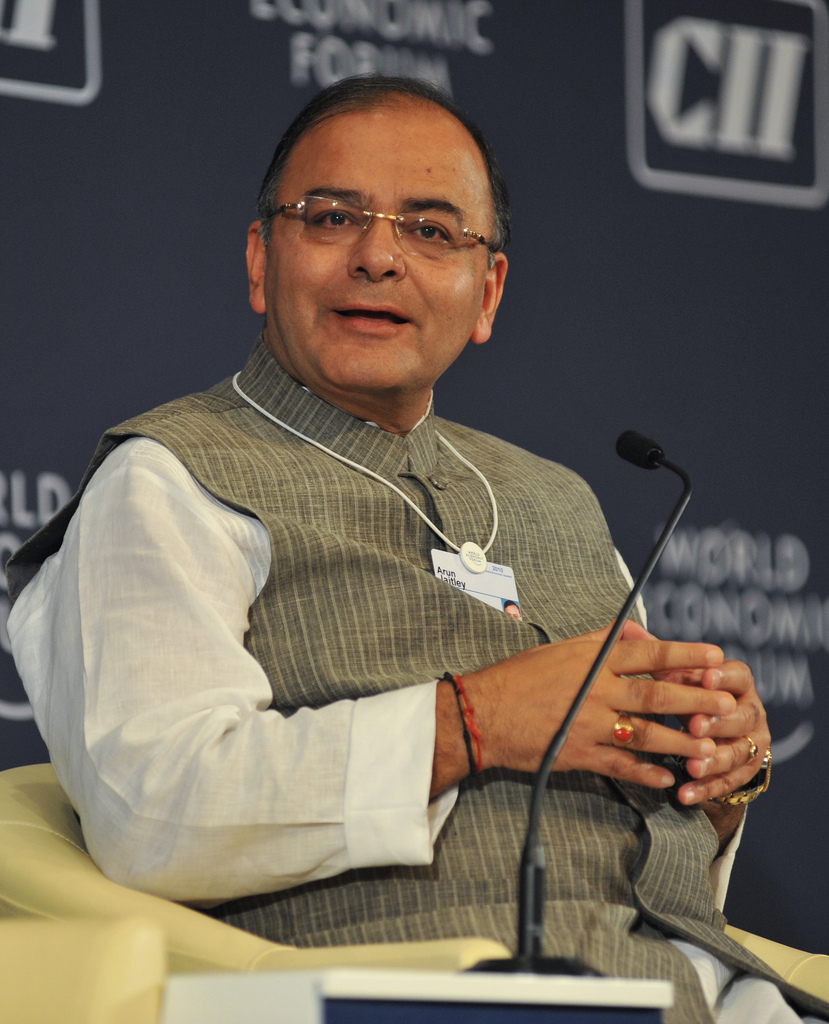 The finance minister, Arun Jaitley is at it again, demanding lower interest rates. As he said, late last week: "Now, whether domestic savings are only to be used by such instruments which give you a higher return and create an interest regime which is extremely costly and makes the economy sluggish, or higher returns are to be got from such instruments as funds, bonds, shares."
Jaitley further said: "A lot of them have also an element of secured investment in them which can give people a very respectable return itself."
Normally, Jaitley's statements on interest rates  in the past have been as straightforward as, I demand lower interest rates. But this time around, he has made a long and a convoluted statement, which basically means the same.
So what Jaitley is saying here is that people save money with banks. The interest rates on bank fixed deposits are high. Given that interest rates on bank fixed deposits are high, the interest rates on bank loans are high. Since interest rates on bank loans are high, people and companies are not borrowing, and this makes the overall economy sluggish.
Hence, people should be investing their money in mutual funds, bonds and shares that finance projects and economic activity.
This is what happens when people make statements without looking at numbers. In fact, growth in retail lending carried out by banks in 2015-2016, has been the highest since 2009-2010. So clearly retail lending is growing at a very robust pace. The so called high interest rates on bank lending, clearly hasn't had much of an impact on this front.
Dates
Retail lending growth
March 20, 2015 to March 18, 2016
19.40%
March 21, 2014 to March 20, 2015
15.50%
March 22, 2013 to March 21, 2014
15.50%
March 23, 2012 to March 22, 2013
14.70%
March 25, 2011 to March 23, 2012
12.90%
March 26, 2010 to March 25,2011
17.00%
March 27, 2009 to March 26, 2010
4.10%
Source: Sectoral Deployment of Credit Data, RBI
The problem has been in bank lending to industry. The lending growth to industry in 2015-2016 slowed down to around 2.7 per cent. In comparison, it grew by more than 23 per cent, during the go go years between 2009 and 2011. But a lot of that lending was to crony capitalists.
Banks have not been lending to industry, because of all the bad loans that they have accumulated on the lending to industry, in the past. Also, many corporates continue to be heavily leveraged, even though things did improve a little in 2015-2016.
As the RBI Financial Stability Report released in late June points out: "An analysis of the current trends in debt servicing capacity and leverage of 'weak' companies [defined as those having interest coverage ratio (ICR)<1]was undertaken…[It] indicated some improvement in 2015-16. The analysis shows that 15.0 per cent of companies were 'weak' in the select sample as at end March 2016, compared to 17.8 per cent in March 2015. The share of debt of these 'weak' companies also fell to 27.8 per cent of total debt in the second half of 2015-16 from 29.2 per cent in the second half of 2014-15. However, the debt to equity ratio of these 'weak' companies increased to 2.0 from 1.8."
Interest coverage ratio is the ratio of the earnings before interest and taxes of a company during a period divided by the interest that it needs to pay on its accumulated debt during the same period. This basically reflects the ability of the company to finance its debt. An interest coverage ratio of less than one basically means that the company is not making enough money to be able to repay the interest on its accumulated debt.
The RBI categorises these companies as weak companies. The proportion of these companies fell to 15 per cent as on March 31, 2016, in comparison to 17.8 per cent earlier. Nevertheless, these companies still had around 27.8 per cent of the total bank debt. Further, their debt to equity ratio deteriorated to 2 from 1.8.
Given that many companies continue to be highly leveraged along with the fact that they are not making enough money to be able to service their accumulated debt, it is but natural that banks do not want to lend to these companies.
The purpose of any bank is not to get the economy going by lending. It is to lend money to customers who are likely to return it. At the same time, they need to charge an adequate rate of interest, which basically takes the credit risk (or the chances of a default) of customers into account.
Also, Jaitley's statement seems to suggest that corporates are just waiting to borrow money and expand. And the high interest rates of banks are stopping them from doing so. The data clearly suggests otherwise.
As per the Order Books, Inventories and Capacity Utilisation Survey (OBICUS) survey carried out by the RBI, for the period October to December 2015, the capacity utilisation of 1,058 manufacturing companies which responded to the survey, stood at 72.5 per cent. This was slightly better than the period July to September 2015, when it had stood at 71.4 per cent.
But on the whole capacity utilisation continues to be low. More than one fourth of manufacturing capacity is still not being used. In fact, the situation is even worse than this in some sectors. As Manasi Swamy of the Centre for Monitoring Indian Economy points out in a research note titled Why should manufacturers invest more?: "Large manufacturing industries like cement, steel, sponge iron and aluminium worked at an estimated capacity utilisation of 65 per cent or lower in 2015-16. Automobile companies too have enough capacity to meet any increase in demand. The passenger cars industry is running at 63 per cent capacity utilisation level, two-wheelers at 76 per cent, commercial vehicles at as low as 37 per cent and tractors at 63 per cent. Capacity utilisation levels in industries like paper and textiles are also quite low."
Over and above this, the return on capital employed for the manufacturing sector has fallen from 11.7 per cent in 2006-2007 to 3.8 per cent in 2014-2015, Swamy points out. In this scenario it is safe to say that industry is also not interested in borrowing more to expand. They may welcome lower interest rates because that will help them service their existing debt in a better way. But that is another issue altogether.
Also, Jaitley seems to suggest that investing in stocks and mutual funds leads to entrepreneurs being able to raise capital. This doesn't hold true anymore. Public issues these days are basically about investors trying to sell out their stakes in companies. It is rarely about entrepreneurs funding expansion by selling shares. These investors can be venture capitalists, private equity firms or even the government.
Further, banks raise deposits to give out loans. And these loans are also helpful for the economy. If retail lending is growing at close to 20 per cent, it is benefiting vehicle companies, consumer durable companies, as well as real estate companies. What about that? How is that not helping the economy?
Also, the basic question that Jaitley needs to answer is that if the Indian economy grew by 7.6 per cent in 2015-2016, how is the economic growth sluggish? The finance minister cannot have it both ways. When he wants to project the government in good light he says, India is the fastest growing major economy in the world. When he wants lower interest rates and show the RBI in a bad light, he says the economic growth is sluggish.
Another point I wanted to make is that the government can play a huge role in bringing down interest rates further. Currently, the difference between fixed deposit interest rates and the interest rate offered on post office small savings schemes is anywhere from 40 to 160 basis points. One basis point is one hundredth of a percentage. Banks compete with post office schemes when it comes to taking on deposits and cannot keep cutting interest rates on deposits beyond a point.
Further, I think Mr Jaitley must clearly not have forgotten all the ruckus that was created when the government tried to cut the interest rate on the Employees Provident Fund(EPF) by 5 basis points to 8.7 per cent. This would have meant that contributors to the EPF would have got a lower interest of Rs 50 less per lakh, during the course of the year. To break it down further, it would have meant a lower interest of Rs 4.5 per month per lakh, for those who contribute to the EPF. The government couldn't even push this through.
The current interest rate on EPF is 8.8 per cent. This is close 100-180 basis points higher than the interest rate on fixed deposits, without taking into account that interest rate on fixed deposits is taxed, whereas interest on EPF is tax free. Why should there be such a huge difference in interest rates? How about some fairness on this front Mr Jaitley?
Of course, those who contribute to EPF are an organised lot and can create a lot of hungama if the government decides to cut the interest rate. The same cannot be said for a normal depositor who is placing his money in the bank in the hope that it grows in the years to come. The depositors do not have a union and hence, it's easy to take them for a ride.
The column was originally published on the Vivek Kaul Diary on July 13, 2016