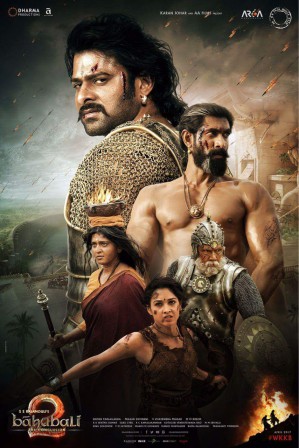 The race is on. Is it Bahubali 2? Or is it Dangal? Which is the biggest Indian hit film of all time?
For a brief period, it looked that Bahubali 2 with a worldwide business of more than Rs 1,500 crore, would take the top slot. Until Dangal opened in China. The movie has done a worldwide business of close to Rs 1,700 crore, with around Rs 900 crore coming from China alone.
This means that Dangal is the biggest Indian hit film of all time. Ironically, Bahubali 2 with collections of close to Rs 500 crore in Hindi, is the biggest hit in Hindi cinema (originally made in Telugu it has been dubbed into Hindi) of all time. Dangal made a little over Rs 387 crore in Hindi. On an all India basis Bahubali 2 did greater business than Dangal. Hence, within India Bahubali 2 is the biggest hit of all time.
There are many things that this analysis does not take into account. The first and foremost is the fact that no one is looking at the return on investment.
If a film made on a budget of Rs 15 crore does a business of Rs 60 crore, it earns a return of 300 per cent. In comparison, if a film made on a budget of Rs 100 crore does a business of Rs 200 crore, it makes a return of only 100 per cent, even though the overall business that it does is certainly more.
Hence, just measuring the revenue of a film gives a misleading picture. But this is the way analysis happens.  This convolutes the overall picture in favour of films doing big business, even though their return on investment may not be necessarily high.
The second point is inflation. The value of the rupee today is not the same as it was 50 years back or 20 years back or even a year back. Ticket prices have gone up over the years. In fact, in large parts of the country, film ticket prices have gone up much faster than the overall rate of inflation. When I was in college in the mid to late 1990s, the most expensive ticket was around Rs 11. Even if we assume a rate of inflation of 8 per cent per year over the last two decades, Rs 11 then is now worth around Rs 51.
In the big cities, where much of the film business happens, Rs 51 is simply not enough to buy a film ticket. Hence, films now make much more money than they did in the past because tickets even after adjusting for inflation are more expensive than they used to be.
As Diptakirti Chaudhuri writes in Written by Salim-Javed—The Story of Hindi Cinema's Greatest Screenwriters: "In the first run, Ramesh Sippy [the director of Sholay] estimates Sholay made a staggering Rs 25 crore. To put this in perspective, it made more than eight times the production cost—which was the highest ever at that time."
How does this number look if we were to take inflation into account? Chaudhuri estimates the prices have gone up eighteen times since 1975. This "would put just the domestic gross collection of Sholay at Rs 450 crores." A price increase of 18 times over four decades means a rate of inflation of around 5.3 per cent.
This is just adjusting for inflation. If we take into account the excessive increase in ticket prices in comparison to overall inflation, Sholay would have made much more than Rs 450 crore, if we were to adjust for today's reality.
It would have definitely made more than Bahubali 2 has in its first run in Hindi. Also, this does not take into account the fact that Sholay continued to earn money over the years, as it kept getting re-released. Now that is something that doesn't happen anymore with most money being made in the first few weeks of the film's release.
If we see the situation from this lens, things suddenly don't seem like they are being projected.
The column originally appeared in the Bangalore Mirror on May 31, 2017.