The finance and defence minister Arun Jaitley, recently said: "India has a historic second chance, after nearly one-and-a-half decades, to disinvest in state-owned Air India Ltd and help propel the growth of aviation sector."
Whether this happens remains to be seen given that the issue of disinvestment of Air India is a political hot potato, and any movement on this front is likely to lead to a lot of hungama, for the lack of a better word, from India's professional trade union leaders, as well as the opposition parties, which have been in a rather moribund state of late.
Over and above this, the Modi government hasn't really come up with any economic reform till date, which is likely to make it unpopular with a section of the population. The unpopular steps have typically been reserved to drive the so called cultural agenda of the Rashtriya Swayemsevak Sangh (RSS) and the Bhartiya Janata Party (BJP).
Having said that, before the government goes about disinvesting Air India there are several low hanging fruits that it can pluck, and save a lot of money in the process. One such company is the Hindustan Photo Films Manufacturing Co. Ltd. Take a look at Table 1.
Table 1: 10 Major Loss Making CPSEs during 2015-16
As per Table 1, Hindustan Photo Films was the fourth largest loss maker among all public sector enterprises in 2015-2016. It made a loss of around Rs 2,528 crore. The three companies that made greater losses than Hindustan Photo, had some semblance of a business, though not a business model. The Steel Authority of India Ltd has steel plants all over the country and employs thousands of people, though it lost a lot of money in doing so, given that it can't compete with the Chinese steel on the price front.
The Bharat Sanchar Nigam Ltd, offers telecom services across the country. And Air India, for whatever it is worth, is India's national airline and flies people globally as well as locally. It also flies the prime minister whenever he takes an international trip.
But what about Hindustan Photo Films? What does the company do? Photo films went out of business a while back. The question is: Why is the government still running a photo film company? The photo film was killed first by the digital camera and then by the mobile phone. Actually, the company doesn't make photo films any more.
During 2012-2013 (the latest annual report that I could find), the total production of the company had stood at Rs. 3.6 crore. The sales had stood at Rs. 3.7 crore. Now imagine who in their right minds would run a company with sales of under Rs. 4 crore and which ends up with losses of more than Rs. 1,500 crore, as it did during the course of 2012-2013. As mentioned earlier in 2015-2016, the company lost Rs 2,528 crore. It employed 217 individuals. This meant a loss of Rs 11.65 crore per employee. This number shows the ridiculousness of the entire exercise of keeping the company alive.
In fact, 2015-2016 wasn't the first time that Hindustan Photo Films lost money. It has been losing money for over a decade. Between 2004-2005 and 2015-2016, the company has lost close to Rs 15,000 crore in total.
Table 2: Losses of Hindustan Photo Films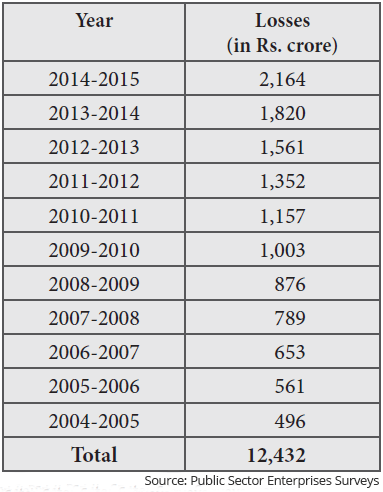 As is clear from Table 2, the company hasn't made any money in years. Given this, in order to continue to operate the company has borrowed money. As of March 31, 2016, the total long-term loans of the company stood at Rs 23,752 crore. Servicing these loans by paying interest on them, I guess is the major expense of the company now. I say guess because I don't have access to the latest annual report of the company.
Banks keep giving loans to a dud company like Hindustan Photo Films because they know that they are ultimately lending to the central government, and what can be a more safer form of lending.
It is worth pointing out here that the government does not have an unlimited amount of money. Every rupee that goes towards funding the losses of companies like Hindustan Photo Films, is money that does not go towards more important things like education, health, or affordable housing, for that matter.
Also, a normal excuse offered on keeping a loss-making public sector enterprise going is that so many people are employed. Over and above the direct employment, there is a certain ecosystem that the public sector enterprise feeds into and helps that ecosystem as well. But in this case, this logic fails given that there are only 217 employees. They can be given a good voluntary retirement package and the company can be shutdown. Also, the physical assets of the company can be sold to repay the debt that has been accumulated. For starters, the company has 472 constructed homes in its township.
This is low hanging fruit that the Modi government can easily cash in on, if it wants to. Why this hasn't happened up until now, on that your guess is as good as mine.
The column originally appeared on Equitymaster on May 30, 2017.