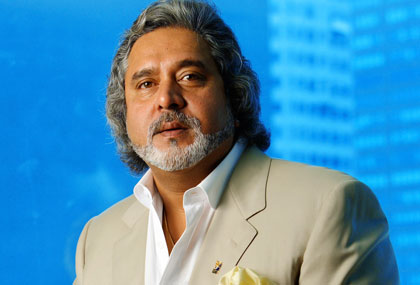 I'm gonna make him an offer he can't refuse. Okay? I want you to leave it all to me. Go on, go back to the party. – Don Corleone in The Godfather
Vijay Mallya has made an offer to banks to settle the Rs 9,091 crore that he owes them. He has promised to pay Rs 4000 crore by September 2016. He has also promised to pay Rs 2,000 crore if wins a case against a company, which allegedly supplied defective engines to the now defunct Kingfisher Airlines.
Has Mallya made an offer which the banks should not refuse? Many analysts and experts seem to be of the opinion that banks should take on this offer and in the process limit their losses.  Parag Jariwala, vice-president at Religare Capital Markets told the Mint newspaper that "Mallya's settlement offer to banks is not too bad…The actual loss if banks accept Mallya's proposal will be just 7% on principal."
Over the last couple of days many people on Twitter have told me that "something is better than nothing'' and given this banks should accept Mallya's proposal and limit their losses. Honestly, this is a very simplistic way of looking at things. It would have perhaps made some sense if Mallya was the only or perhaps one of the few defaulters in town. But that is not the case.
Mallya owes Indian banks around Rs 9,091 crore. This is a very small amount when we look at the total amount of money owed by various corporates to Indian banks. The minister of state for finance Jayant Sinha shared some interesting data in a written reply to a question in the Lok Sabha, on March 11, 2016.
The accompanying table shows us how big the problem of banks' lending to corporates actually is.
Rs. in Crore
Corporate Lending
Year
Gross Advances
Gross NPAs
GNPA Ratio
2012-13
31,11,761
1,00,118
3.22
2013-14
34,06,025
1,54,955
4.55
2014-15
36,15,133
1,93,123
5.34
2015-16 (till Dec. 15)
38,41,836
2,60,653
6.78
The gross non-performing ratio has more than doubled between 2012-2013 and December 15, 2015. It has jumped from 3.22% to 6.78%. The gross non-performing ratio is essentially obtained by dividing gross non-performing assets by gross advances or total loans given by the banks, in this case to corporates.
And how do we define gross non-performing assets? As the per the Reserve Bank of India: "An asset…becomes non performing when it ceases to generate income for the bank." When the corporate borrower stops paying interest and repaying the principal on a loan (a loan is an asset for a bank), the bank typically allows for a grace period of 90 days. After this grace period is over, the bank categorises the loans as a non-performing asset and starts setting aside money (or making provisions) for it. The total sum of such loans forms the gross-non-performing assets or bad loans.
If we look at total bad loans of Rs 2,60,653 crore, Mallya's loans of Rs 9,091 crore form only 3.5% of the total bad loans. If the banks decide to settle with Mallya, they will end up setting a precedent. Then other defaulters will also want to settle and not pay up what they owe to the banks. Do they banks really want to end up in such a situation?
While settling with Mallya may not hurt banks financially much, the same cannot be said of a scenario where they were to start settling the Rs 2,60,553 crore corporate bad loans in total.
Also, any such settlement will build in "moral hazard" into the financial system. And what is moral hazard? As Mohamed A El-Erian writes in The Only Game in Town: "[It] is the inclination to take more risk because of the perceived backing of an effective and decisive insurance mechanism."
If the banks start settling with corporates what is the signal that they are sending to the future corporate borrowers? That it is okay to take on a lot of risk with the money that they borrow from the bank or simply siphon it off. And if things go wrong, they can always settle with the bank for a lower amount.
Hence, it is very important that such a wrong precedent is not set.
On a different note, Mallya's offer raises several other questions. If he is in a position to pay Rs 4,000 crore to banks why did he leave the country? Or why did he not pay the salaries of the employees of Kingfisher Airlines and leave them in a lurch?
Or does all this tell us that the former king of good times is simply buying time? On that your guess is as good as mine.
The column originally appeared in the Vivek Kaul Diary on April 4, 2016