Atmanirbharta has been the hot political and economic buzzword in India for quite a while now. It means self-reliance in English. Or as the finance minister Nirmala Sitharaman put it in her budget speech:
"Atmanirbharta is not a new idea. Ancient India was largely self reliant, and equally, a business epicentre of the world. Atmanirbhar Bharat is an expression of 130 crores Indians who have full confidence in their capabilities and skills."
In economic terms it essentially refers to import substitution, which India practiced for almost four decades, after independence, where the idea was to make everything in the country rather than import it.
In political terms, the narrative is directed towards China and our import dependence on the Middle Kingdom. In the recent past, our political tensions with our largest neighbour have escalated and we are trying to hurt it economically by producing more at home, and not importing as much from it as we had done in the past. Also, we have banned many Chinese apps.
The question is where are we going with atmanirbharta. Let's take a look at the following chart, which plots the total amount of goods imported from China during the period April to January, over the years.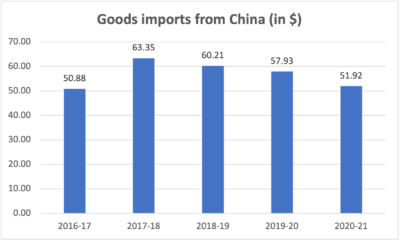 Source: Centre for Monitoring Indian Economy.
The goods imports from China during the current financial year have been the lowest between 2016-17 and 2020-21, at $51.92 billion. Nevertheless, a simple presentation of goods imports doesn't take into account the fact that India's goods imports during April 2020 to January 2021 have fallen by 23.1% to $340.9 billion. They stood at $443.22 during April 2019 to January 2020. This fall shows a lack of consumer demand, which has crashed during the course of the year, with the spread of the covid pandemic.
Let's look at the next chart, which plots what proportion of India's goods imports came from China, during the period April to January of a financial year, over the years.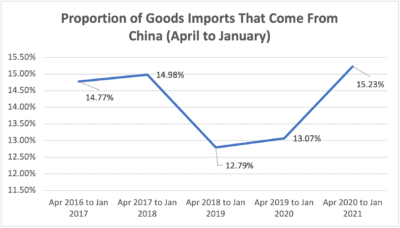 Source: Author calculations on data from Centre for Monitoring Indian Economy.
During April 2020 to January 2021, the proportion of imports coming from China stood at 15.23%. This is the highest in the period considered. Hence, while economic and political narrative maybe moving towards atmanirbharta, the data clearly shows something else. Our dependence on China for goods imports continues, like it was in the past.
There is one more way we can look at data. While we don't have the full year's data for 2020-21, we do have that for the years gone by. Hence, we take a look at proportion of full-year imports coming from China, in the next chart.
Source: Centre for Monitoring Indian Economy.
*April 2020 to January 2021.
The above chart makes for a very interesting read. In 1991-92, India barely imported anything from China. Just 0.11% came from China. In the nearly three decades that have followed, the imports from China have exploded. This just shows the rise of Chinese productivity year on year, in comparison to that of India. The proportion of imports coming from China peaked at 16.4% in 2017-18, fell for the next two years, and have risen again this year.
What is the reason for this marginally increased dependence in 2020-21? Ananth Krishnan writing in his terrific book India's China Challenge – A Journey Through China's Rise and What It Means for India, quotes Amitendu Palit, an economist at the National University of Singapore, in this context.
As Palit says: "If you look at critical medical supplies, which India has been importing for frontline healthcare workers in the Covid-19 battle, most of these come from China, which is one of the top sources, but, on the other hand, there isn't a very widely diversified source of countries from which India can actually import these either."
The larger point here is that China has now become central to many global supply chains and hence, it won't be easy for India to lower its dependence on China dramatically as far as imports of goods is concerned.
In fact, one area where India has managed to reduce its dependence on China in the last five years, is telecom instruments, as they are categorised in the imports data. Given that the use of landline phones has come down over the years, the category  primarily includes mobile handsets.
Take a look at the following chart. It plots the value of the telecom instruments (read mobile handsets) imported from China, over the years.
 Source: Centre for Monitoring Indian Economy.
*April 2020 to January 2021.
As can be seen, the value of the instruments imported from China has come down over the years, though the 2020-21 full year imports are likely to end up being higher than those in 2019-20. In 2017-18, import of telecom instruments formed a little over a fifth of our imports from China. This fell to 8.67% in 2019-20 and has increased to 10.48% in the current financial year.
To make companies manufacture mobile phones in India, the government has been imposing duties/tarrifs on various goods that go into making of a mobile phone. The idea is to make imports from China expensive and in the process, force companies to manufacture phones in India.
In fact, this strategy has been borrowed from China. As Matthew C Klein and Michael Pettis write in Trade Wars and Class Wars: "Import substitution has succeeded thanks in part to Chinese government policies that have systematically encouraged Chinese businesses to substitute foreign production for domestic production, even when this has raised costs for Chinese consumers." Of course, unlike India, China does not need to impose duties/tariffs to "direct domestic demand towards domestic production".
As Klein and Pettis point out: "Executives can simply be told to pick Chinese suppliers over foreign ones… The result is that, unlike many other countries, imports have become less and less important to the Chinese economy since the mid 2000s."
Also, given that Indian productivity is worse than that of the Chinese, manufacturing in India, comes with a cost. While, mobile handset prices barely rose between 2015 and 2019, the same hasn't been the case in 2020, when they rose by 7%. Clearly, the cost of atmanirbharta on the mobile handsets front is being borne by the Indian consumer. As I keep saying, there is no free lunch, someone has got to bear the cost.
The government has also come up with the production linked incentive (PLI) scheme in order to help manufacturing companies in India. As Sitharaman said in the budget speech:
"Our manufacturing companies need to become an integral part of global supply chains, possess core competence and cutting-edge technology. To achieve all of the above, PLI schemes to create manufacturing global champions for an Atmanirbhar Bharat have been announced for 13 sectors. For this, the government has committed nearly Rs 1.97 lakh crores, over 5 years starting FY 2021-22. This initiative will help bring scale and size in key sectors, create and nurture global champions and provide jobs to our youth."
There are multiple problems with this approach. The first being that the government is trying to pick winners. This entire approach smells of how things used to happen before the economic reforms of 1991, with the bureaucrats deciding what businesses should be doing.
Also, this comes at a time when prime minister Narendra Modi has been critical of IAS officers. As he said in February: "Just because somebody is an IAS officer, he is running fertiliser and chemical factories to airlines." The same babu is now expected to run an incentive scheme for big business.
India's biggest success stories over the last three decades, software, pharma and automobiles, happened despite the government, and not because of it. So, the idea still should be to make things easier for smaller businesses to grow bigger, which is something that happened beautifully in the IT sector. (This is not to say that the government didn't help. It did. But it largely didn't meddle).
In fact, while we think of China as a country with big companies that wasn't always the case. China's initial growth in the 1980s and up until the mid 1990s was through the growth of millions of Township and Village Enterprises (TVEs). This is a fact that seems to have been forgotten.
Big companies growing bigger can create some jobs, but not the number of jobs that India requires. As data from the Centre for Monitoring Indian Economy shows, in the last five years India has added 11.77 crore individuals to the working age population.
This means that around 19.76 lakh individuals have crossed the age of 15 on an average every month, over the last five years. Of course, not all of them are looking for jobs but a good chunk are. Even if we assume that around 40% of them are looking for jobs, we end up with around one crore people looking for jobs every year.
Such a huge number of jobs can only be created by small businesses growing bigger and not by big businesses growing bigger, which can only possibly be the icing on the cake.
As an OECD (Organisation for Economic Co-operation and Development) research paper points out:
"SMEs (small- and medium-sized enterprises) account for 60 to 70 per cent of jobs in most OECD countries, with a particularly large share in Italy and Japan, and a relatively smaller share in the United States. Throughout, they also account for a disproportionately large share of new jobs, especially in those countries which have displayed a strong employment record, including the United States and the Netherlands. Some evidence points also to the importance of age, rather than size, in job creation: young firms generate more than their share of employment."'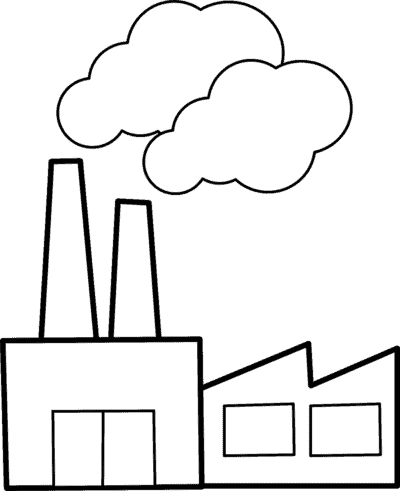 In fact, given the obsession the current government has had with scale and formalisation of the economy, small businesses have been hurt through a mind-numbing move like demonetisation and a half-baked goods and services tax.
Further, the globalisation game itself might be changing. While, we might want companies based out of India to become a part of global supply chains, it is worth remembering here that the strategy worked at a certain point of time.
As Krishnan writes:
"China was able to recognize and exploit the opportunities just as global production chains were forming through the opening of the early 1990s… The infrastructure it was able to create through the 1990s enabled 'a unique and probably unrepeatable combination of low developing country labour costs and good, almost rich country infrastructure.'"
Also, the supply chains that are already in place are not going to shut down and move to India, just because India is now offering incentives. As Apple CEO Tim Cook said in 2017: "The popular conception is that companies come to China because of low labour cost… The reason is because of the skill, and the quantity of skill in one location and the type of skill it is."
India clearly has a skills problem. A little more than a fifth of Indian graduates are unemployed, and at the same time when companies advertise for personnel, they can't seem to find enough of them who meet the right criteria. Multiple surveys have found Indian graduates and engineers to be simply unemployable. This is not something that can be set right overnight.
The corporates, not surprisingly, have welcomed the scheme, given that the government is offering "a recurring cash subsidy computed as a fixed percentage of the manufactured sales turnover." Hence, they clearly have an incentive to do so. In fact, lobbying has already started on this front.
Take the case of the PLI scheme in the electronics and mobile manufacturing, which has been touted as a success, after attracting investments of over Rs 11,000 crore in 2020. As an editorial in The Hindu Business Line points out, the beneficiaries are already asking for a rollover, "citing land acquisition delays, lack of skilled workforce and demand issues post Covid."
Also, as has been seen in India in the past, once a subsidy is introduced into the government's budget, it rarely goes away.
Finally, lest I be accused of looking at only negatives (honestly, please go to news.google.com and enter PLI scheme, you will only get positive stories to read), one positive thing could come out of the scheme.
As Palit told Krishnan in the context of China: "When we look at value chains today, let's say in a post Covid-19 situation, the emphasis on the part of businesses is to make these chains shorter, more resilient, more durable, and locate them closer to demand markets… This is where we often overlook the importance of China. It continues to remain a major source of final demand." And given this shifting supply chains out of China will be difficult.
This applies to India as well. Given India's size, it will continue to have a huge source of consumer demand in the years to come. This should encourage companies looking for stable supply chains to have their manufacturing bases in India to cater to its domestic market. And this is where PLI can work its magic.
As Neeraj Bansal of KPMG put it in a recent writeup:
"From raw materials to critical components, the COVID-19 pandemic exposed the reliance of country's key sectors on a few markets for fulfilling their manufacturing and sourcing requirements. To put things in perspective, India depends on a single market for 70 per cent of its API consumption needs, 85 per cent of smartphone components imports and 75 per cent of television components imports. As global supply chains were swiftly and effectively dismantled as one country after another went into lockdown in 2020, efforts toward bolstering domestic manufacturing gained momentum."
Nevertheless, there is a corollary to this. As more and more people get vaccinated and the world moves on and goes back to doing things that it always has, this narrative of having manufacturing facilities closer to the demand markets, will keep getting weaker. Hence, India has a couple of years to cash in on it.
Of course, whether India emerges as a country where the products are assembled or major value addition takes place, remains to be seen. Also, prices will go up. Make in India will come at a cost.