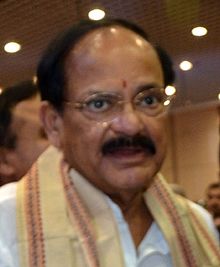 Yesterday afternoon something weird happened on Twitter.
An irate flyer sent out four tweets against Air India. No it wasn't me. Here are the four tweets:
1) I had to travel to Hyderabad by Air India AI544 which is to depart at 1315 Hrs… was told on time…reached airport by 1230 Hrs.
2) was informed at 1315hrs that flight was delayed as d pilot had not yet come.Waited up to 1345 Hrs, boarding didn't start. returned 2 home.
3) Air India should explain how such things are happening. Transparency and accountability are the need of the hour.
4) Hope Air India understands that we are in the age of competition. Missed an important appointment.
The tweets were sent out by senior BJP politician and the Union Minister for Urban Development, Housing & Urban Poverty Alleviation as well as Parliamentary Affairs, M Venkaiah Naidu. Naidu is a heavy weight in the Modi government. The fact that he took to Twitter to criticise the government owned airline means he must have been extremely irritated by the airline's failure to depart on time.
Air India replied in true government style saying that the pilot was stuck in a traffic jam and an enquiry had been ordered. (I wonder why pilots of other airlines do not get stuck in traffic jams?)
Minister Naidu got a feel of what happens when people travel Air India. This is a good thing where the politicians and the bureaucrats get a feel of how the system they help build and run, actually works.
As Reserve Bank of India governor Raghuram Rajan, had said in a speech sometime back: "A lot of officials, including myself, learn the difficulties of working in India as an 'aam aadmi' only once we leave office, lose the assistant, the assistant to the assistant, and the assistant to the assistant's assistant. Post retirement, and I have seen this with all the people I know, they realise the system is much harder to deal with."
It was Naidu's opportunity yesterday to have that kind of day. The sad part is that those who run Air India still don't get it. The airline has managed to accumulate huge losses over the years and continues to survive on borrowing as well as equity infusion by the government (i.e. basically the taxpayer).
Anyone in their right mind, stopped traveling Air India a while back. The airline now runs simply because of government employees who when travelling officially have no other option (in most cases) but to travel in the airline and pay the full fare.
The airline now has 14.7 per cent market share. This has been a huge fall from the days when it had 100% of the domestic market share given that no private airlines were allowed to operate. (The domestic airline back then was called Indian Airlines. There was also Vayudoot, another government owned airline, which travelled to smaller locations).
This is nothing but what Ruchir Sharma calls privatization by benign neglect. As he writes in his new book The Rise and Fall of Nations—Ten Rules of Change in the Post-Crisis World: "India…has adopted a de facto policy of what I can only describe as privatization by malign neglect. The political class can't bring itself to sell off the old state companies, or to reform them either. Instead, it simply watches as private companies slowly drive the state behemoths into irrelevance. Thirty years ago state-owned Air India was basically the only way for Indians to fly, but the rise of agile private airlines including Jet and Indigo, has reduced its share of flights to less than 25 percent." As mentioned earlier Air India now has 14.7% of the domestic market share.
The business flyer who is willing to pay a premium and for whom time is of utmost importance, has more or less abandoned Air India and moved on to other airlines. Guess, it's time that minister Naidu also does that, the next time he has to reach on time for any meeting outside Delhi.
Air India is not the only example of the government not being able to withstand competition. Sector after sector has seen the government companies being decimated wherever they have had to face competition. As Sharma writes: "The same goes for telecommunications, where former state monopolies like MTNL and BSNL have been allowed to slowly wither in the face of more nimble private telecom companies, and together they now account for less than 30 million of India's 900 million telecom subscribers."
But the government (this government as well as the ones before it) have kept these companies going. Of course, a lot of taxpayer money which could have been better utilised elsewhere has been lost in the process. Air India has lost close to Rs 35,000 crore between 2010-2011 and 2015-2016. Last year it managed to make an operational profit primarily because of lower oil prices.
The point being that it would have been better for the government to have sold off these companies long back. As Sharma writes: "The state would have done a lot better to simply sell of these companies when they were still valuable, but now it is losing money on them hand over fist, and they are worth a pittance. This approach—refusing either to privatize or protect state monopolies—is the worst possible combination for government's finances."
And that is precisely what the previous governments did. The Narendra Modi government continues to run on the same principle. One doesn't expect radical decisions from a government which couldn't even push through a five basis points interest rate cut on the Employees Provident Fund(EPF). One basis point is one hundredth of a percentage.
The airline business is a very tough and competitive business to be in. Any airline hoping to make a profit needs to be run by a professional who has some experience in the airline business. Air India has never had that luck for a sustained period of time. No such moves have been made by the current government either. This belief that bureaucrats and not specialists, can do everything, has been one of the primary reasons behind the degradation of India.
In fact, Air India has now reached a stage where even if the government were to try selling it, there would be no buyers. As civil aviation minister Ashok Gajapati Raju said sometime back: "Its (Air India) books are so bad. I don't think that even if it is offered, anybody would come for it."
The more things change the more they remain the same. The taxpayer will continue paying for this national loot.
The column originally appeared in Vivek Kaul's Diary on June 29, 2016