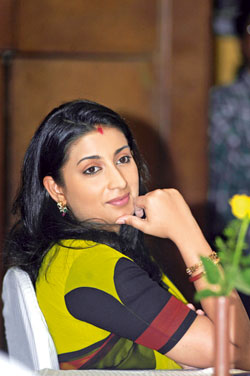 Last week, prime minister Narendra Modi, expanded the Union Cabinet, and 19 new ministers were inducted into it.
The swearing in of the new ministers happened at 11AM in the morning and did not hold any surprises. But a late evening announcement spelling out the change in ministries of existing ministers, had its share of surprises.
Smriti Irani, the youngest cabinet minister in the present Cabinet, was moved from Human Resources Development to Textiles. Jayant Sinha, the minister of state for finance was moved to the Civil Aviation ministry. Both these moves were surprises and were a step down for the ministers.
But it took the social media no time to come up with explanations for these moves and give a positive spin to the entire thing.
So, Irani, apparently had been moved to the textiles ministry because she could have a big role to play in the 2017 Uttar Pradesh elections. While people suggested that Sinha was basically paying for the outbursts of his father, former finance minister, Yashwant Sinha, against the Modi government. Some others suggested that his wife is an investor and there is a conflict of interest.
There are multiple issues that come up here. If people were so sure that Irani being moved from a high profile ministry to a low-profile one, why didn't they talk about it earlier? If they knew that this was a possibility, they could have at least speculated about it, before the decision was made.
Coming up with explanations after something has happened is an excellent example of hindsight bias. As Jason Zweig writes in The Devil's Financial Dictionary: "Hindsight bias [is] the mechanism in the human mind that makes surprises vanish. Once you learn what did happen, your mind tricks you into believing that you always knew that it would happen."
Psychologist Daniel Kahneman explains the phenomenon through the example of a football match. As he writes in Thinking, Fast and Slow: "Imagine yourself before a football game between two teams that have the same record of wins and losses. Now the game is over, and one team trashed the other. In your revised model of the world, the winning team is much stronger than the loser, and your view of the past as well as of the future has been altered by the new perception."
An excellent example of this is all the explanatory articles that were published after Iceland recently beat England in the Euro Cup football tournament.
The reason this happens is that the human mind wants explanations for surprises. And if there are no explanations it comes up with explanations. As Duncan J Watts writes in Everything is Obvious—Once You Know the Answer: "Whenever something interesting, dramatic, or terrible happens—Hush Puppies become popular again, a book by an unknown author becomes an international best seller, the housing bubble bursts, or terrorists crash plans into the World Trade Center—we instinctively look for explanations."
This is precisely what happened when Irani and Sinha were demoted. In Sinha's case, that his wife is an investor has always been known. So that leads to the question why was he moved now? If the reason was conflict of interest, that was true from the day he became minister.
Hence, things that appear to us explanations are basically just stories that we tell ourselves and others, in order to come up with an explanation. As Watts writes: "The result is that what appear to us to be causal explanations are in fact just stories—description of what happened that tell us little, if anything, about the mechanisms at work. Nevertheless, because these stories have the form of causal explanations, we treat them as if they have predictive power." This is clearly not the case.
Nevertheless, at the end of the day, everybody loves a good story, especially when one does not know the real reason behind why something happened. And that is precisely what happened in the aftermath of Irani and Sinha being demoted from high profile ministries to non-descript ones.
The column originally appeared in the Bangalore Mirror on July 12, 2016