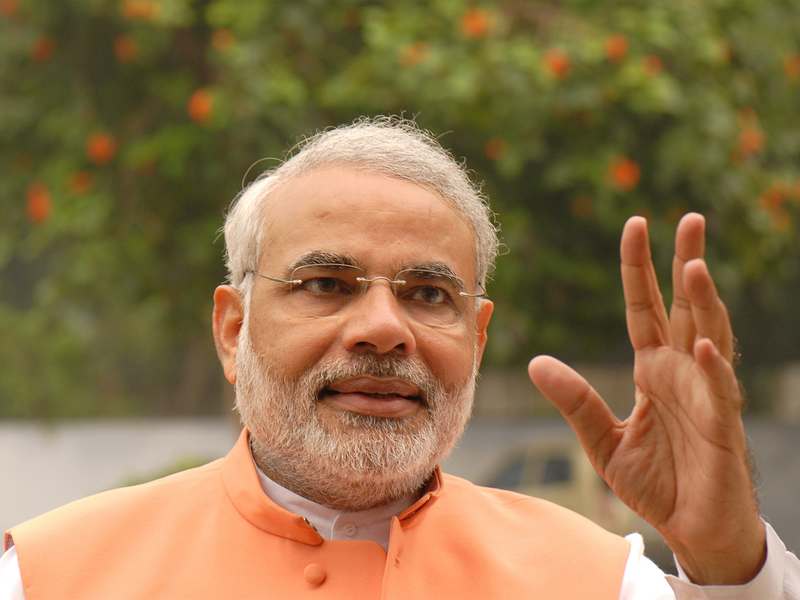 India gave the world zero, and helped Mathematics, which until then was dependent on Roman numerals, leapfrog.
Last week we also gave the world, what I would like to call pakodanomics (I guess even bondanomics would work fine).
In a television interview, prime minister Narendra Modi, said: "If someone opens a 'pakoda' shop in front of your office, does that not count at employment? The person's daily earning of Rs 200 will never come into any books or accounts. The truth is massive people are being employed."
Thus, prime minister Modi, helped found a new discipline in economics, pakodanomics.
What was prime minister Modi really trying to say here? This entire jobs crisis is being overblown. What is important is employment and not jobs. This, I think, is a fair point, which most people in India do not get, given our fascination for sarkari (i.e. government) jobs. Of course, expecting the government to create employment for one million Indians entering the workforce every month and the 8.4 crore Indians who need to be moved from agriculture to make it economically feasible, is unfair. That point is well taken.
Employment can come in various forms. Even selling pakodas and making Rs 200 per day is employment. Selling pakodas on the street is incidental here. What is more important is that the prime minister of India is saying that people can sell stuff on the street, make money and employment can thus be generated.
There is a basic problem with this argument. Before I get into explaining that problem, a couple of clarifications: a) I didn't come up with the example of the selling pakodas, the prime minister did. b) The piece is not about the unit economics of pakodawallahs and how much money they make on a given day (I know, dear reader, you know a pakodawallah who is a millionaire). But it is about selling any product on the street to earn Rs 200 per day and the prime minister of our country offering this as an employment opportunity.
At Rs 200 per day, the annual income of an individual selling pakodas (Again, let me repeat here, pakodas are incidental to the entire example. It is about making money by selling stuff on the street) would be Rs 73,000 (Rs 200 x 365 days). This is assuming that he sells 365 days a year. This is an unrealistic assumption, but we will let it be.
The per capita income of an average Indian was Rs 1.03 lakh in 2016-2017. Hence, the individual selling pakodas earns 29 per cent less than the average Indian. If I were to flip this point, an average Indian makes 41 per cent more than the individual selling pakodas. So, clearly there is a problem.
Of course, someone has to earn lower than the average income. But the difference between the average income and the income of the individual selling pakodas is significant. PM Modi's pakoda seller is not earning much simply because there are too many people out there selling pakodas. At a broader level there are too many Indians selling stuff on streets. This is primarily because there aren't proper jobs going around. And if there are, people are unskilled to carry them out.
Let's get into a little more detail by looking at some data. Take a look at Table 1, which deals with the self-employed people in India.
Table 1: Self Employed / Regular wage salaried / Contract/ Casual Workers
according to Average Monthly Earnings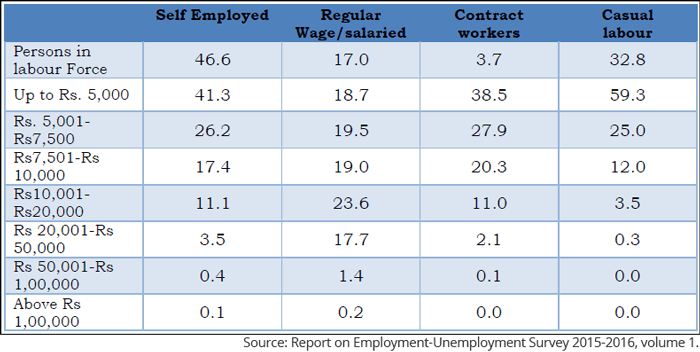 What does Table 1 tell us? It tells us that nearly half of India's workforce (46.6 per cent to be exact) is self-employed. Further, 67.5 per cent of India's self employed make up to Rs 90,000 a year. A little over 41 per cent make only up to Rs 60,000 a year. What does this tell us? It tells us very clearly that self-employment (selling pakodas for example) does not pay well.
Most of India's self-employed workers make lesser money per year than the average per capita income of the country, which in 2015-2016 (for which the self-employed data is), was Rs 94,130. So, there is a clearly a problem with being self-employed. (The good part is, it is better than being a casual labourer, which is by far worse. But to be self-employed you need some basic capital to start, which many Indians, who end up as casual labourers, don't).
People in India are self-employed because they do not have a choice. Currently, the government is busy trying to pass of self-employment in India as entrepreneurship, which are two very different things. People in India become self-employed because there are no jobs going around for them. Entrepreneurship, on the other hand, is by choice.
Further, as can be seen from Table 1, getting a job is more monetarily rewarding than being self-employed. Hence, selling pakodas or being self-employed, is not the solution to the problem. It is a symptom of the problem, an indication of the problem and the fact that barely anything is being done about it.
To conclude, zero was a useful invention, pakodanomics isn't. It's better to get rid of it as soon as possible and concentrate on the real problem of creating the right environment which will help the real entrepreneurs create genuine employment opportunities for India's youth.
As I keep saying, the first step towards solving a problem is recognising that it exists.
The column originally appeared in Equitymaster on January 24, 2018.