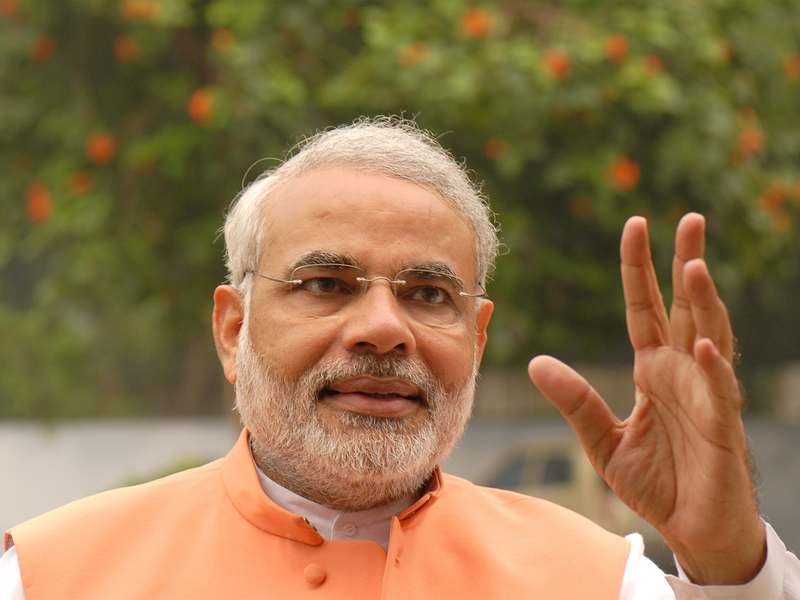 Sushma Swaraj, the minister of external affairs, must be one unhappy woman these days. This, coming from the fact that prime minister Narendra Modi among other things is also India's real minister of external affairs.
Modi is currently touring Germany, after having visited France. In an op-ed in the German daily Frankfurter Allgemeine Zeitung the prime minister wrote: "We have re-energised the Indian growth engine. The credibility of our economy has been restored. India is once again poised for rapid growth and development…It is the only emerging economy where growth rate is rising. The prospects are even better."
Prime ministers need to say such "optimistic" things when they go on foreign visits. But things on the ground level in India are not very different than they have been in the past. Take corporate performance for one. In a research note released last week Crisil Research expects "India Inc.'s revenue growth to slip to a 7-quarter low of 2.5 per cent on a year-on-year (y-o-y) basis," for the period between January to March 2015. This is less than half the growth of 5.4% seen in the period October to December 2014.
Crisil believes that the steel sector will see revenue declines of 10-11%. The petrochemicals industry will see a revenue decline of 20-22% on account of drop in global crude oil prices. "Growth for construction and capital goods sectors' will continue to remain sluggish due to lower order backlog and slow project execution," the research note points out.
The revenues of the automobile sector are expected to grow by around 6%. "While sales of cars and medium & heavy commercial vehicles have picked up, muted growth in international businesses and the two wheeler space will impact the topline." The two wheeler companies are not expected to do well primarily because of the non-seasonal rains in large parts of the country which will impact the production of the rabi crop. This will dent farm incomes.
As Crisil Research points out: "Domestic consumption and export-oriented sectors are likely to outperform but, here too, sectors heavily dependent on rural consumption such as motorcycles, tractors, and FMCG have been facing severe pressure on volumes as unseasonal weather conditions and slow growth in crop prices have dented farm incomes."
This will have an impact on the Fast Moving Consumer Goods(FMCG) sector as well. Crisil forecasts this sector to grow at 8-9% during the period January to March 2015. The sector had grown at close to 14% in between April and September 2014, the first half of the last financial year.
What this clearly tells us is that the performance of the Indian companies will remain weak during the period January to March 2015. What is interesting is that before Narendra Modi came to power, corporate performance had been relatively stronger than it is now. During the period April to June 2014 (the first quarter of the last financial year) the revenues had grown by 12.8%. In each of the three quarters before that, the revenues had grown at higher than 10%.
Since July 2014, the revenue growth started to fall and has continued to fall. Modi came to power on May 26, 2014. Corporate growth is a function of many factors and just blaming the Modi government for it is not fair. But the claim that Modi made in Germany that " we have re-energised the Indian growth engine," is not correct either. Without growth in company revenues, there is no way the overall Indian economic growth can be re-energised. Both are closely linked.
Further, if sustainable economic growth is to be created jobs need to be created to employ India's burgeoning workforce. Sample this—Every year up till 2030, 13 million Indians will enter the workforce. This means more than a million Indians are entering the workforce every month. And if enough new jobs are created for them, economic growth will automatically happen.
But is that the case? Are enough jobs being created? The trouble on this front is that India does not have good data on employment. In fact, the latest economic survey makes this point: "The data on longer-term employment trends are difficult to interpret because of the bewildering multiplicity of data sources, methodology and coverage."
Despite this, some broad inferences can be made by looking at data from multiple data sources. (I will spare you the details here. But anyone interested in the details can refer to Box 1.3 Employment Growth and Employment Elasticity: What is the Evidence? In Volume 1 of the Economic Survey).
As the Economic Survey points out: "Regardless of which data source is used, it seems clear that employment growth is lagging behind growth in the labour force. For example, according to the Census, between 2001 and 2011, labor force growth was 2.23 percent (male and female combined). This is lower than most estimates of employment growth in this decade of closer to 1.4 percent. Creating more rapid employment opportunities is clearly a major policy challenge."
This is a major challenge for the Modi government and honestly it doesn't seem to have done much on this front. Jobs are essentially created by small entrepreneurs as they grow big. The labour laws in India essentially ensure that most firms start small and continue to stay small. For this anomaly to be corrected, India's labour laws need to be simplified. Nothing has happened on this front at the central level, since Narendra Modi came to power.
Over and above this, the entire process of starting and running a business in India is not easy. As per the Ease of Doing Business ranking India ranks 142 in a list of 189 countries. When it comes to the ease of starting a new business it comes in 158th. When it comes to enforcing contracts India comes in 186th out of 189 countries.
What this clearly tells us is that the entire Indian system works against an individual wanting to establish and run a business. What it also tells us is that in order to run a business in India you need to be well connected and that explains the surfeit of crony capitalists who do well in India.
If jobs are to be created the ease with which a business can be started and operated in India needs to be improved. Sadly, nothing much has happened on that front despite the so called dynamism of Narendra Modi. And unless this changes, the entire dream of acche din will continue to be just that. 
The column originally appeared on The Daily Reckoning on Apr 14, 2015