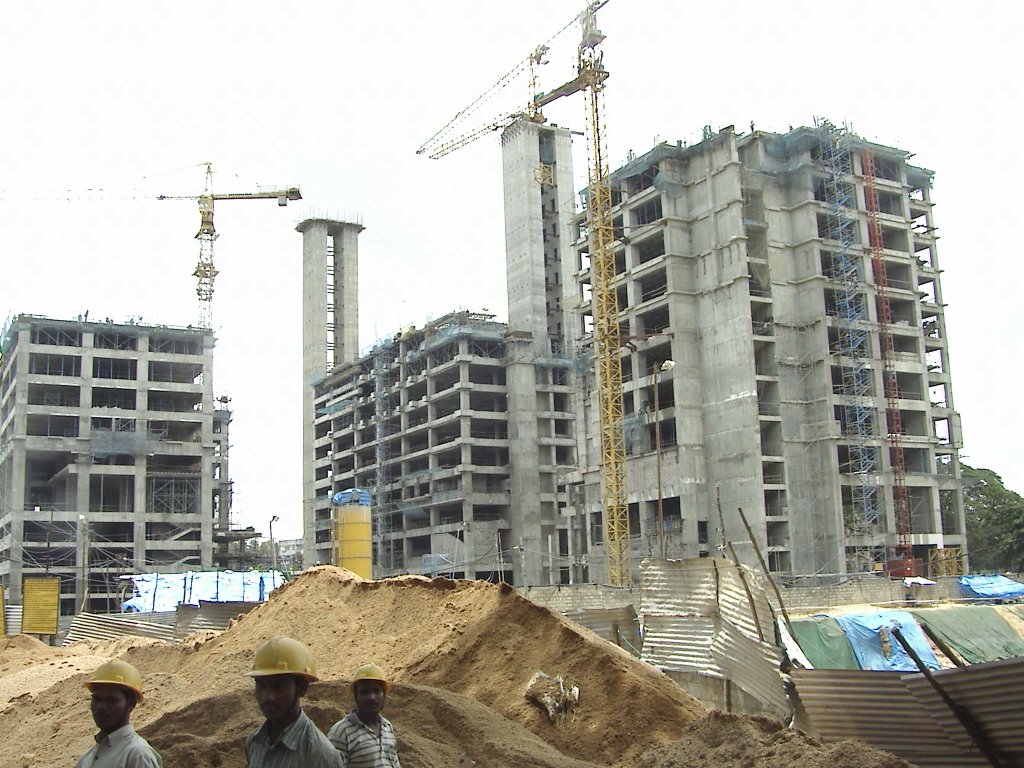 Vivek Kaul
If you are still in denial that all is well with the real estate sector, this should wake you up. The real estate consultant Knight Frank has released a research report in which it points out the depressing state of the real estate sector in Delhi and the National Capital Region.
As analyst Ankita Sood writing for Knight Frank points out: "The market registered a year on year dip of 50%, with 14,250 units sold." Hence, home sales in the National Capital Region for the period January to June 2015 dropped by 50% in comparison to the same period last year.
At the same time the number of new launches also fell dramatically by 68% in January to June 2015 in comparison to the same period last year. The new project launches stood at 11,360 units.
There are a number of lessons that can be drawn from these numbers:
1) Investors do not have endless patience: The real estate market in and around Delhi has primarily been investor driven. This is primarily because of the massive amount of black money that the city manages to generate. Black money is money which has been earned but on which taxes have not been paid.
Falling home sales clearly indicate that investors are no longer interested in buying more new homes, given that they are still sitting on the ones they had bought over the last few years. And the returns on these apartments have been negative or next to nothing. Hence, investors are looking to sell out the homes they had bought.
As Sood writes: "The growth rate of the weighted average price has been witnessing a downward trend since 2013, and has slowed down considerably…Long-term investors who were with the developers over the 3–4 year construction period are now looking for an exit, owing to the depressed market sentiments. Stagnant prices and delayed project deliveries have contributed towards investors entering into a 'distressed resale' mode, as they are now offering to exit at a 15% to 20% discount than the primary market price."
This "offer to exit" at 15 to 20% discount tells us very clearly that real estate prices do fall. And as more and more investors hit the market to sell what they have been sitting on, prices will fall further.
2) The total amount of black money coming into real estate has been coming down: As far as the metropolitan cities in India is concerned, the maximum amount of black money goes into real estate in Delhi. As analysts Saurabh Mukherjea and Sumit Shekhar of Ambit write in a recent research report titled Real Estate: The unwind and its side effects: "In Delhi, the ratio of unaccounted value of real estate transactions to the total value is as high as 78%. The same ratio is 50% in Kolkata and Bangalore. In smaller towns and semi urban centres, nearly 100% of property transactions are conducted in cash." In Mumbai, they put the ratio of black money to total value at between 10-30%.
Hence, among the bigger cities, the maximum amount of black money goes into real estate in Delhi and the National Capital Region. And this has been coming down. How can we conclude that? The Delhi and the National Capital Region have approximately 189,678 unsold units, Knight Frank data suggests.
If black money were coming into real estate at the same pace as before, this number would have been much lower. A fall in new launches by 68% is another good indicator that black money coming into the sector has been coming down.
3) You can't fool all the people all the time: The Delhi and the National Capital Region has had too many instances of builders disappearing as well as not delivering homes on time. As Santhosh Kumar, CEO – Operations & International Director, JLL India, wrote in a recent research note: "The National Capital Region (NCR) has some locations that buyers are best advised to avoid. Various issues like delays in delivery, oversupply, speculation and infrastructure deficit have been plaguing these markets, rendering them unsuitable for first-time home purchase."
Kumar gives the example of the Greater Faridabad area. As he writes: "Many instances of fly-by-night operators (and even some established developers) reneging on their commitments to buyers have been evident in Greater Faridabad. There have even been cases of developers absconding altogether after selling as many flats as they could without finishing the projects."
Obviously, such fraud cannot go on forever. Buyers have come to know about these things over a period of time and have decided to stay away from buying real estate. In fact, Kumar even warns people to stay away from under-construction property, such is the state of real estate in Delhi and National Capital Region.
As he writes: "Keep away from pre-launches. Instead, look for bargain buys when investors exit. At that point of time, construction will be closer to completion or completed, and Gurgaon is witnessing distress sales from investors."
A real estate consultant asking people not to invest in pre-launches needs to be taken very seriously.
4) An end user market:  With investors staying away and the total amount of black money finding its way into real estate coming down, if things continue in this way, Delhi and the National Capital Region real estate market, will become a market which is driven by those people who are looking for a home to live in, rather than invest. In fact, Sood of Knight Frank suggests that is already the case: "NCR is now an end user-driven market – developers restrict new launches, while buyers carefully select clean projects."
5) You can't keep making a product which the consumer does not want: The main reason why the real estate sector is in a mess is because prices have gone way beyond what most people can afford. This is a fundamental reason that most people associated with real estate refuse to acknowledge. On being given this reason, they come up with reasons like there is corruption in the government, laws are complicated, so on and so forth.
These might be genuine reasons but that does not negate the point that real estate prices have gone way beyond what most people can afford. Even the "rich" that real estate companies were building for cannot afford real estate at current prices. A product cannot be endlessly priced above what people are willing to pay for it.
As Knight Frank points out: "Policy fallacies such as the opening up of new land for development, allotment of group housing licences in areas with no infrastructure, project delays due to litigations and the liquidity crunch, and stagnant incomes[emphasis is mine] have affected NCR's real estate appetite adversely."
It is nice to see a real estate consultant acknowledge stagnant incomes as one of the reasons for one of the mess in the real estate sector. What it means in simple English is that incomes haven't been able to keep pace with real estate prices i.e. prices are now way beyond what people can afford. And this cannot go on forever.
The column first appeared on Firstpost on July 30, 2015
(Vivek Kaul is the author of the Easy Money trilogy. He tweets @kaul_vivek)