The International Monetary Fund (IMF) in the World Economic Outlook update for January 2021, has forecast that the Indian economy will grow by 11.5% in 2021.
If this happens, it will be the fastest that the Indian economy has ever grown. It will also be the first time that the Indian economy will grow in double digits. (Actually, the country did grow by greater than 10% in 2010-11, but that was later revised by the Modi government, once a new set of gross domestic product (GDP) data was published).
The following chart plots the GDP growth over the years. The GDP is the measure of an economic size of a country.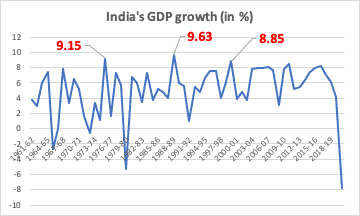 Source: Centre for Monitoring Indian Economy.
It is interesting that the Indian GDP has grown by more than 9% only twice previously, and both these occasions were before the 1991 economic reforms. The economy grew by 9.15% in 1975-76 (post the first oil shock) and 9.63% in 1988-89. Post 1991, the country grew the fastest in 1999-00 when it had grown by 8.85% (after the American sanctions).
Also, among the selected economies for which IMF published data, India will be the fastest growing economy in the world in 2021. China comes in second at 8.1%.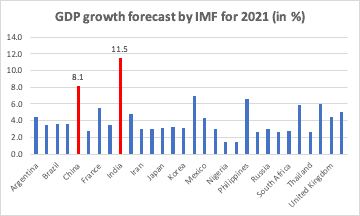 Source: International Monetary Fund.
India growing by 11.5% in 2021 is indeed a big deal, there is no denying that. But there are a few factors that need to be kept in mind here.
First and foremost is the base effect. Before I go into highlighting the base effect in this context, let's first understand what it means.
Let's say the price of a stock in 2019 was Rs 100. In 2020, it falls by 50% to Rs 50. In 2021, it is expected to rise to Rs 75. This means a gain of Rs 25 or 50% per share. If we just look at prices of 2020 and 2021, the stock has done fantastically well and gained 50%.
But what we also need to keep in mind is the stock price in 2019, when it was at Rs 100. It then fell massively by 50% to Rs 50 and rose from there. Hence, the stock price rose from a much lower-base. And this lower base was responsible for a gain of 50%. Further, in 2021, the stock continued to be lower than its 2019 price. This is base effect at play.
One way to look at base effect is to look at the GDP growth/contraction forecast by IMF for 2020.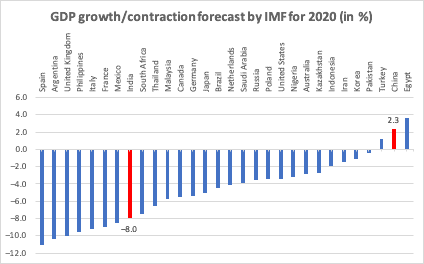 Source: International Monetary Fund.
As can be seen from the above chart, the IMF expects the Indian GDP to have contracted by 8% in 2020. Hence, in 2020, the Indian economy will be among the worst performing economies in the world. Given this, a 11.5% growth in 2021, will come on a massively contracted GDP in 2020. This is a point that needs to be kept in mind.
Also, all the countries which have done worse than India have a per capita income larger than that of India. In that sense they are economically much more developed than India is and their pain of contraction is much lesser than that of India, given that these countries already have access to the most basic economic necessities in life, which many Indians still don't.
Let's go into a little more detail on this point. While the IMF publishes real GDP growth data (which we have been discussing up until now), it doesn't publish constant price GDP, which adjusts for inflation, in a common currency like the US dollar.
To get around this problem, let's use the constant price GDP data published by the World Bank. On this we apply, the  GDP contraction/growth rates as forecast by the IMF. As per the World Bank, the Indian GDP in 2019 (in constant 2010 $) was $2.94 trillion. In 2020. A contraction of 8% in 2020 would mean a GDP of $2.70 trillion in 2020. A 11.5% rise on this would mean that the Indian GDP is expected to touch $3.01 trillion in 2021, which is around 2.4% better than the GDP in 2019.
Hence, in that sense, the slowing Indian economic growth for the last few years, followed by the covid contraction, has put the Indian economy back by two years. Of course, it can be argued that every country has gone through this. Indeed, that's true, but that doesn't make our pain any better.
Also, before saying stuff like India will grow faster than China in 2021, please keep in mind the fact that the Chinese GDP in 2019 was $11.54 trillion (World Bank data), which is much more than that of the India's GDP.
In 2020, the Chinese economy was expected to grow by 2.3%. This means that the Chinese GDP in 2020 would have grown to $11.81 trillion. In 2021, the Chinese GDP is expected to grow by 8.1% to $12.76 trillion. This means an increase in GDP of $0.95 trillion in just one year. If we compare this increase with the expected Indian GDP of $3.01 trillion in 2021, what it means is that China will end up adding 31.6% of the India's economy in just one year. Or to put it simply, China will add a third of India's economy in just one year.
It also means that between 2019 and 2021, the Chinese economy is expected to grow by $1.22 trillion ($12.76 minus $11.54 trillion). During the same period, the Indian economy is expected to grow by $ 0.07 trillion ($3.01 trillion minus $2.94 trillion). Please keep these facts in mind before saying that in 2021 India will grow faster than China.
Between 2019 and 2021, the gap between India and China has grown even bigger and that is a fact that needs to be kept in mind. All numbers and figures need some context, otherwise they are useless and as good as propaganda, which I think will happen quite a lot during the course of the day today.
If you have already read the newspapers and the websites on this issue, you might have seen that almost all of them say that India will grow faster than China in 2021. But almost  no one bothers to mention the fact that China grew faster than India both in 2019 and 2020. Or the fact that China is growing on a significantly larger base (the most important point when we are talking percentages).
At the risk of repetition, you won't see any such analysis appearing in the mainstream media. So, kindly continue supporting my work. Even small amounts make a huge difference.