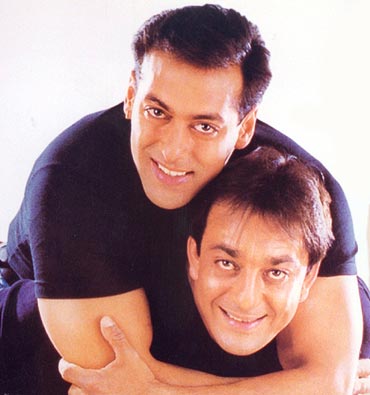 The actor Salman 'Bhai' Khan has been pronounced guilty by a Mumbai court in the 2002 hit and run case. The court said that Khan was driving without a license and under the influence of alcohol. The actor was driving back home (he lives in Galaxy Apartment at Bandstand in Bandra, Mumbai) late night on September 28, 2002, when he lost control of the SUV, drove on to a pavement outside a bakery in Bandra and killed one person and injured four others, in the process. Khan has been sentenced to a prison term of five years.
Multiple theories have been offered in support of the actor by his lawyers, fans and others who have followed this hit and run case closely. Khan's lawyers submitted the balance sheet of his charity Being Human in court and argued that the star had sponsored the heart surgeries of 600 children.
Charity is always good. But that doesn't cancel out the fact that Khan was drunk while driving an SUV and in the process killed one person and injured four others. And given that the law of the land should take its course. Charity cannot be a reason to pardon wrongdoing. If that were to be the case, alcoholic drivers would regularly run their SUVs on to pavements, in the process kill and injure people, and then start doing charity.
His lawyers also submitted a certificate in court which said that the actor suffered from "arteriovenus malformation in the setting of right trigeminal neuralgia". Wikipedia defines trigeminal neuralgia as "neuropathic isorder characterized by episodes of intense pain in the face, originating from the trigeminal nerve". Khan's lawyers pleaded for a light sentence.
If the actor has this disease why is he doing two films at the same time (Bajrangi Bhaijaan, opposite Kareena Kapoor, andPrem Ratan Dhan Paayo opposite Sonam Kapoor). He is also scheduled to star in four other movies including  Dabang 3 and Entry Mein No Entry. If the actor has this disease and is not in best shape how come he is committed to doing so many movies? May be his lawyers can give us answer for that.
Outside the court, it has been argued that there is Rs 200 crore riding on the actor. The thing here is that the accident did not happen yesterday. It happened in September 2002. Every producer who has signed Khan since then has known that there was a risk that Khan might be arrested. Nevertheless, the producers chose to go ahead and sign the filmstar. The possibility that Khan might have to go to jail was a business risk that they were taking. Unfortunately that risk has come to be true for the producers in whose films Khan is currently acting.
The film industry as expected has come out in support of Khan. The actress Sonakshi Sinha tweeted that Khan was a good man and no one can take that away from him. He may be a good man but what about the individual who was killed due to Khan's rash driving? And what about the four others who were injured? Weren't they good people as well?
The entire support that seems to be coming out for Salman Khan is very similar to the support that came out in favour of Sanjay Dutt when he was convicted in the 1993 Mumbai bomb blasts case. When Dutt was convicted similar specious arguments were made in his favour. One argument which gained a fair amount of popularity was that he is a good man and hence should not go to jail. Justice Markandaya Katju argued that—Dutt has through his film revived the memory of Mahatma Gandhi and the message of Gandhiji, the father of the nation.
The movies Katju was talking about were Munnabhai MBBS and Lageraho Munnabhai. Dutt did not make these movies, he just acted in them. The movies were the vision of director Rajkumar Hirani, who also co-wrote them.
In fact, Dutt was not even supposed to play the role of Munnabhai in Munnabhai MBBS. The original choice was Shah Rukh Khan, who later declined due to a back injury. So Sanjay Dutt was simply lucky to have first landed and then played the role which made Gandhi fashionable again. And that was no reason to let him go.
Mamata Banerjee, the chief minister of West Bengal, argued that Sanjay Dutt should be let go because his father Sunill Dutt was a good man. "Today, I fondly remember Sunil Dutt ji. He used to come to my residence whenever he was in Calcutta. If he were alive, he would have no doubt made all efforts to see that Sanjay does not suffer any more. My heart echoes the same sentiments ," she wrote on Facebook.
This was another specious argument. If sons were to let go because their fathers were good individuals, who would ever got convicted. Let's take the case of the late Head Constable Ibrahim Kaskar of Mumbai police.
As S Hussain Zaidi writes in Dongri to Dubai – Six Decades of the Mumbai Mafia "In the predominantly Muslim stronghold of Dongri, Ibrahim's baithak was the first place people went to if they had a problem. It was privy to everything-from people discussing their choking lavatory drain to the excitement of the elopement of lovers or cases of police harassment." Kaskar's son is Dawood Ibrahim.
The point being that it is easy to offer specious arguments in favour of individuals convicted by courts. At the end of the day what matters is the law of the land. If that is being correctly implemented(even though many years late) everything else is a non-issue.
(Vivek Kaul is the author of the Easy Money trilogy. He tweets @kaul_vivek)

The column originally appeared on Firstpost on May 6, 2015