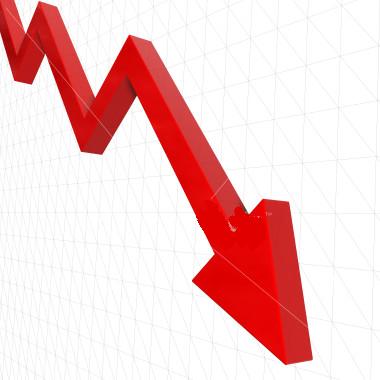 This is something I should have written last week but with all the focus on the Federal Reserve of the United States, the analysis of India's export numbers had to take a backseat.
Merchandise exports (goods exports) for the month of November 2015 were down by 24.4% to $20 billion. Take a look at the following table. What it tells us is that the performance on the exports front has been much worse during the second half of 2015. During the first six months of the year the total exports fell by 16.4% in comparison to the same period in 2014. Between July and November 2015, exports have fallen by 19.7%, in comparison to July and November 2014.
| | | | |
| --- | --- | --- | --- |
| Month | Exports (in $ billion) in 2015 | Exports (in $ billion) in 2014 | % fall |
| January | 23.9 | 26.9 | 11.15% |
| February | 21.5 | 25.4 | 15.35% |
| March | 23.9 | 30.3 | 21.12% |
| April | 22.1 | 25.6 | 13.67% |
| May | 22.3 | 28 | 20.36% |
| June | 22.3 | 26.5 | 15.85% |
| July | 23.1 | 25.8 | 10.47% |
| August | 21.3 | 26.8 | 20.52% |
| September | 21.8 | 28.9 | 24.57% |
| October | 21.3 | 25.9 | 17.76% |
| November | 20 | 26.5 | 24.53% |
Why have the exports fallen so dramatically? A major reason for the same lies in the fact that oil prices have been falling for a while now. At the beginning November 2014, the price of Indian basket of crude oil was at around $81 per barrel. Since then price of oil has fallen to $34 per barrel, a fall of around 58%.
But how does that impact Indian exports? India imports 80% of the oil that it consumes. Given this, any fall in the price of oil is usually welcome. The oil marketing companies need to spend fewer dollars in order to buy oil. At least that is the way one looks at things in the conventional sort of way. What most people don't know is that in October 2014, petroleum products were India's number one export at $5.7 billion. Several Indian companies run oil refineries which refine crude oil and then export petroleum products.
In November 2014, petroleum products were India's second largest export at $ 4.7 billion. In November 2015, the export of petroleum products was down by 53.9% to $2.2 billion, in comparison to a year earlier. Also, petroleum is now India's third largest exports behind engineering goods and gems and jewellery. This is a clear impact of the fall in price of oil price.
How do things look if we were to take a look just at exports of non-petroleum products? Exports of non-petroleum products in November 2015 was down by 18.3% to $17.8 billion. This doesn't look as bad as fall of 24.4% of the overall exports, but is bad nonetheless.
How are India's other major exports doing? Engineering goods are currently India's number one export. In the last one year they have fallen 28.6% to $4.7 billion. Gems and jewellery are India's number two export. In the last one year they have fallen 21.5% to $2.9 billion.
A simple explanation here is that the global economy as a whole has not been doing well and that is bound to have an impact on Indian exports as well.  When other countries are not doing well, they import less and this has had an impact on Indian exports.
As Dharmakirti Joshi and Adhish Verma economists at Crisil Research write in a research note titled Exports, Hex, Vex: "Global growth recovery has been slow and uneven. In its latest world economic outlook released in October, the International Monetary Fund (IMF) downgraded its global growth forecast for 2015 to 3.1% from 3.3% earlier. The World Trade Organisation has predicted stagnant trade growth at 2.8% in 2015, which implies annual trade growth would be below 3% for the fourth consecutive year compared to over 7% in the pre-financial crisis period…This suggests global trade has fallen more than world growth, implying trade intensity of world GDP has declined – a worrying phenomenon for export-dependent economies."
But have Indian exports just because global growth and in the process global trade have slowed down? As Joshi and Verma write: "For instance, while world real GDP growth improved from 3.2% in 2009-2011 to 3.4% in 2012-2014, India's real growth of exports came down from 11.1% to 4.1%. This suggests the decline isn't merely cyclical; there are structural elements at play as well. The cyclical component of exports will move up when cyclical factors (world GDP growth, prices) turn favourable, but structural factors, if not addressed, will continue to act as a drag on India's export performance. Falling competitiveness is one of the structural factors restricting export growth. For key export items such as gems & jewellery and textiles, revealed comparative advantage has come down over the years."
So Indian exports have come down also because their competitiveness vis a vis goods from other nations has gone down over the years. It's not just about slowing global economic growth.
How are things looking on the imports front? Imports in the month of November 2015 fell by 30.3% to $29.8 billion. This is primarily on account of a huge fall in oil imports due to plummeting oil prices. Oil imports during November 2015 fell by a whopping 45% to $6.4 billion.
If we ignore oil imports from the total imports number, how do things look? Total imports ignoring oil were down by 24.5% to 23.4 billion in November 2015 in comparison to a year earlier. In fact, if we look at non-oil non-gold imports things get interesting. Non-oil non-gold imports for the month of November 2015 have fallen by 22.1% to $19.8 billion. This number is a very good reflection of how consumer demand as well industrial demand is holding up and still hasn't recovered. And things clearly aren't looking good on this front.
The column originally appeared on The Daily Reckoning on Dec 21, 2015