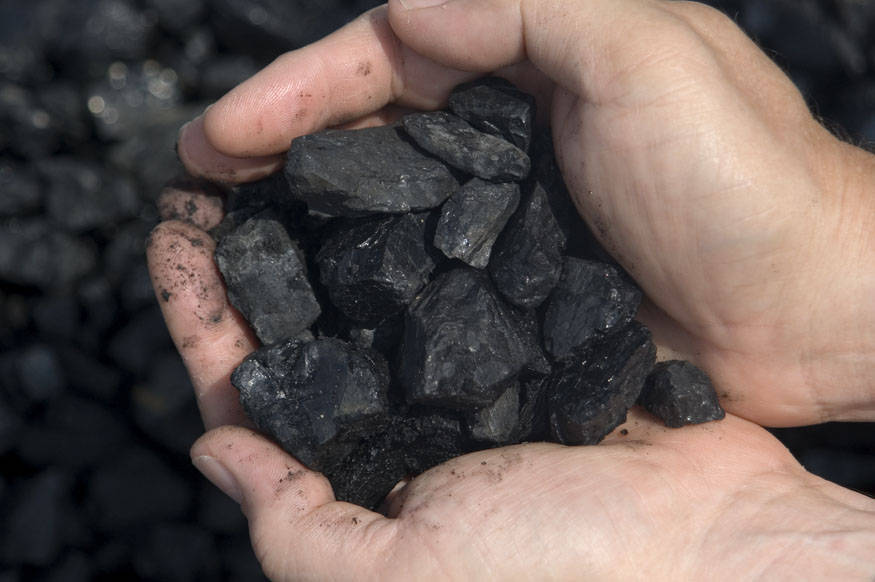 Vivek Kaul
The coal sector in India is in a mess. Yesterday, the government started the process to set it right. It plans to promulgate an ordinance to start with. This ordinance will give the government the power to e-auction coal blocks. The Supreme Court in a decision given in September 2014 had cancelled the allocation of 204 out of the 218 blocks that various governments since 1993 had allocated to companies for captive consumption.
The blocks had been allocated to several companies so that they could use the coal produced in the production of cement, power, aluminium, steel etc. The Supreme Court deemed the process of allocation to be suffering from the "vice of arbitrariness" and cancelled these blocks.
These blocks will now be auctioned. As finance minister Arun Jaitley said yesterday ""As far as the private sector is concerned, the actual users of coal in the cement, steel and power sectors who apply for a certain number of coal mines will be put in the pool and there would be an e-auction. A sufficient and adequate number of mines would be put so that actual users go back with the mines."
This is a good step given that it makes the entire process transparent instead of the arbitrary manner in which coal blocks were allocated through the earlier screening committee method. Further, the system of allocation of coal blocks for free through the screening committee method was discriminatory. It offered a huge premium to companies which managed to get a free coal block, in comparison to ones that did not.
Nevertheless it is important that auctions are designed properly. Earlier this year the government tried to auction a few coal blocks and found no takers. Take the case of the Jhirki west coal block. The auction for this block had a fixed price of Rs 177 crore. Over and above this a minimum price of Rs 2,902 per tonne needed to be paid. Then there was the cost of excavating coal and getting the block up and running.
Once these factors were taken into count the total cost worked out at Rs 8,000 per tonne. The block had low quality coking coal. And at this price good quality coking coal could be imported from Australia. Given this, it is not surprising that the government found no takers for the block. Hence, it is important that the auctions be designed properly.
Further, 42 out of the 218 coal blocks whose allocation has been cancelled are already operational.
The ordinance will allow the transfer of land from companies which own these cancelled mines to the companies which emerge as the winning bidder in the e-auction.
A committee will decide on the price of land. Interestingly, a PTI report points that "Sources said successful bidders in the fresh auction of coal blocks along with the land and plant standing on it would be liable to pay the earlier allottees the cost of the land and the plant along with 12 per cent annual interest on the amount that was originally invested for purchasing the land and setting up plant."
This process needs to be handled with care. Many of the companies which were allotted coal blocks are basically crony capitalists and may try to come up with trumped up estimates of the cost of land and plant. Also, in case of mines that are operational, a certain amount of coal has already been mined. This will have to be taken into account so that the prospective bidders in the auction know the amount of coal they can hope to mine, and can accordingly come up with a bid price.
In fact, the companies which were allocated coal blocks had to use the coal produced for captive consumption only. Hence, if a coal block had been allocated to a power plant, the coal produced needed to be passed on to the power plant. Any excess coal had to be handed over to the local subsidiary of the government owned Coal India Ltd.
Nonetheless there have been a spate of media reports suggesting that the excess coal that was produced was being sold in the open market. As a report in The Economic Times points out "What happened to the surplus coal extracted? In some cases, illegally mined coal has found its way to places like the coal mandi near Varanasi."
This factor will also have to be taken into account before the auction. And it is here that the things can get a little tricky because some companies have mined more coal than they have actually reported.
The government plans to hand over the money generated through the auctions to the state in which the block is located. This is an excellent move, given that the permissions at the state level take a lot of time for a coal mine to get operational. With states being made a part of the process, they have some incentive in not creating hurdles in the production of coal, as has been the case in the past.
Interestingly, Jaitley also said that coal mining will be opened up for the private sector. Currently only Coal India Ltd is allowed to do excavate and sell coal to end users. As Jaitley put it "There will be an enabling provision for the future where under rules which are framed for commercial users of mines could also be decided by the Central government. This would lead to an optimal utilisation of the natural resource." This will call for the amendment of the Coal Mines (Nationalization) Act of 1973.
India currently has a total of 301.6 billion tonnes of coal reserves. Despite having the fifth largest coal reserves in the world, India is the third largest importer of coal having imported around 104.7 million tonnes in 2013-2014. These imports cost around $20 billion a year, as per Jaitley.
Given this, it is a no-brainer to suggest that India needs to produce more coal. During the year 2010-2011, Coal India produced around 431.26 million tonnes of coal. In 2013-2014, it produced 462.42 million tonnes. Hence, the production of coal has increased at the rate of a minuscule 1.76% per year.
Coal India produces a bulk of India's coal. And it is obvious that it has been unable to increase its rate of production over the years. Given this, more companies need to be allowed to excavate coal. Taking that into account, the decision of the government to open coal mining to the private sector is a good one.
As former coal secretary PC Parakh writes in his book Crusader or Conspirator—Coalgate and Other Truths : "Had we opened up coal mining to private sector for commercial mining, along with power sector, in the early 1990s, we would by now have at least half a dozen large coal mining companies in the private sector. This is what happened in the telecom sector. The country would not be facing huge shortage of coal and large outgo of foreign exchange on import of coal."
Also, production of coal for captive use is not the most optimum way to go about the whole thing. As Partha Bhattacharya, former chairman of Coal India, wrote in a column in The Indian Express "Captive end-users mining coal is not optimal. Nor is it known to have succeeded elsewhere in the world. Coal-mining has its own challenges and needs core competence, which the end-users are unlikely to possess."
Given this, allowing private companies into commercial coal mining is required.
The first thing opening up of the sector will do is to create some competition for Coal India and hopefully improve its productivity.  As Swaminathan Aiyar pointed out in a recent column in The Economic Times "In Australia, collieries produce 75 tones per manshift (of eight hours) in open-cast mines and 40 tonnes per manshift in underground mines. Coal India averages barely 7 tonnes and 0.8 tonnes respectively…Coal India's machines work 15 hours per day , against 22 hours per day in efficient mines."
Nevertheless, there are a few issues that need to be highlighted here. First and foremost no date has been set for allowing private commercial mining of coal. As Parakh told The Times of India "I won't say it is a big ticket reform…There is no timeline. This was an opportunity to come clean on the coal sector and allow commercial mining." And that hasn't happened.
Further, no foreign companies will be allowed to carry out commercial mining of coal. This is where things get tricky. The expertise in India to set up and run a coal mine is limited to Coal India. If only Indian companies are allowed to commercially mine coal, they will end up poaching people from Coal India to run their mines. Hence, is important that we allow international companies to enter this sector. If this happens, these companies can bring in their technology and in the process hopefully improve India's low coal productivity.
Also, this is likely to keep the crony capitalism in India under some control. As Raghuram Rajan and Luigi Zingales write in Saving Capitalism from the Capitalists "The most effective way to reduce the power of incumbents to affect legislation is to keep domestic markets open to international competition…Openness creates competitions from outsiders—outsiders that incumbents cannot control through political means."
To conclude, the government has done well to address the issues plaguing the coal sector in India. Nevertheless, given the mess that the coal sector is in, a lot more needed to be done.
The article originally appeared on www.FirstBiz.com on Oct 21, 2014
(Vivek Kaul is the author of the Easy Money trilogy. He tweets @kaul_vivek)