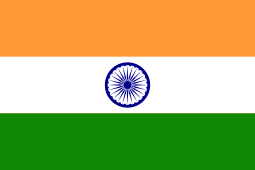 India has been independent for more than 70 years and a republic for 68 years. Between 1950, the year, the country became a republic and 1991, the year, the government initiated economic reforms, the economic size of the country became five times.
By 2014, the economic size of the country was 4.2 times of what it was in 1991. I am forced to stop this comparison at 2014 because India adopted a new GDP series in January 2015 and the GDP data in that series is available only from 2011-2012 onwards.
The differentiating point between pre and post 1991 eras, is that the economic growth has been faster post 1991. There is no denying that this economic growth has had huge benefits.
At the same time, it has created its own set of problems as well. In 1990, as per the World Inequality Report 2018, the top 10 % of India's population earned around 34 % of the national income. By 2016, this had jumped to 55 %. This rise in inequality has happened because the upper echelons of the society have benefitted more from the economic reforms of 1991.
As can be seen from Figure 1, India along with Brazil, have the highest concentration of wealth in the world, after the Middle East. In purchasing power terms, the per capita income of Brazil is 2.3 times that of India.
Figure 1: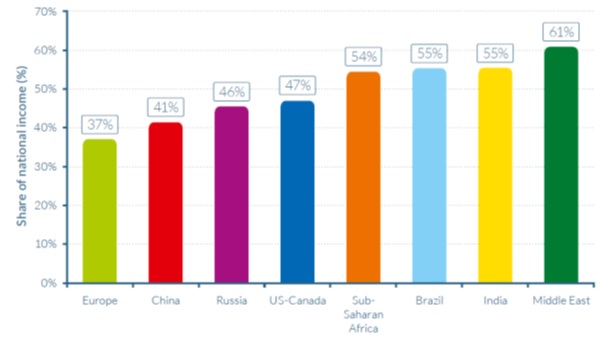 Source: World Inequality Report 2018.
Inequality is not the only reason to worry about on the economic front. For years, the story of India's demographic dividend has been sold to the world. Demographic dividend is a period of few decades in the lifecycle of a nation where it's workforce increases at a faster pace than its overall population. As these individuals enter the workforce, find jobs, earn and spend money, the economy grows at a faster pace and pulls out many people out of poverty.
At least that is how things are supposed to work in theory. Around a million Indians are joining the workforce every month. This is expected to continue for the next decade and a half. The trouble is that there aren't enough jobs going around. A recent estimate made by the Centre for Monitoring Indian Economy suggests that in 2017, two million jobs were created for 11.5 millions Indians who joined the labour force during the year.
There are other data points also which suggest a lack of jobs. The investment to gross domestic product ratio has been falling for a while now. The capacity utilisation rate of manufacturing firms has stagnated between 70 and 72%. If existing capacities are not being used, there is no reason for firms to expand and create jobs.
Labour intensive export sectors like apparels, gems and jewellery, leather, agriculture etc., have remained flat, over the last few years. Real estate and construction, two sectors which have tremendous potential to create jobs which cater to India's cheap and largely unskilled labour, are down in the dumps.
For many, agriculture is no longer economically feasible. A discussion paper recently published by NITI Aayog suggests that agriculture contributes 39% of rural economic output, while employing 64 % of the workforce. For agriculture to be economically feasible nearly 8.4 crore individuals need to be moved out of it. This unfeasibility of agriculture has also resulted in landowning castes across the country, wanting reservation in government jobs.
The education scenario continues to be depressing. Children are going to school but aren't really learning. The latest Annual Status of Education Report (ASER) states: "For the past twelve years, ASER findings have consistently pointed… that many children in elementary school need urgent support for acquiring foundational skills like reading and basic arithmetic." Given this, even when firms have jobs, they cannot find people with the necessary skillset.
The trouble is that skilling is not happening at the scale that it needs to. The different ministries in the government had accepted a target of training 99,35,470 individuals in 2016-2017. Of this, only 19,58,723 or around less than one-fifth had been trained up to December 2016. It isn't fair to blame the government for this, given the huge scale required. This needs a total overhauling of our education system with a huge focus on vocational studies.
Further, the Indian firms start small and continue to remain small. Labour laws remain the major culprit on this front. The state of Jammu and Kashmir has 260 labour laws. Other estimates suggest that India has around 200 labour laws in total. A very serious effort is needed at the government's level to improve, the ease of doing business.
All in all, the scenario that prevails for India's demographic dividend, is very bleak. And it is this demographic dividend which is expected to take us forward for the next seven decades.
The column originally appeared in the Daily News and Analysis, on January 26, 2018.