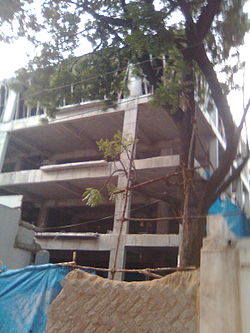 I am in Delhi these days.
And Delhi and the National Capital Region around it, as you would know, dear reader, have their share of real estate stories.
There are stories of builders who have taken the money from prospective buyers and not delivered.
There are stories about builders who have taken the money from prospective buyers and simply disappeared.
There are stories about builders who have taken the money from prospective buyers and abandoned construction midway.
There are stories about prospective buyers continuing to pay their EMIs with no idea of when their dream home will be delivered. Meanwhile, they also continue to pay rent.
There are stories about builders now demanding a bailout from the government.
All in all, the overall real estate story in Delhi and the National Capital Region, is a mess.
Nevertheless, recently I came across a slightly different sort of story, which tells us the different kind of problems that people face with real estate and why sometimes there are really no solutions to a problem.
One of my relatives, who are now very old, have lived a good part of their lives in a DDA colony in South Delhi. The flat was bought in the early 1980s at around Rs 2.5-3 lakh and is now worth close to Rs 3 crore. Of course, South Delhi is a great place to live.
All the everyday amenities from banks to vegetable vendors to milk booths to medicine shops etc., everything is within walking distance and almost everything you can think of is home-delivered.
But the relatives I am talking about here are now old and want to move to a different part of Delhi, to be close to their immediate family, which stays there. That part of Delhi is much cheaper than South Delhi. A similar sort of flat can easily be bought at around 40-50 per cent of the price in South Delhi.
If things work as smoothly, as they are supposed to in theory, this would mean selling the flat in South Delhi for around Rs 3 crore, buying a new one for around Rs 1.5 crore and paying a capital gains tax on the remaining Rs 1.5 crore. And then, they can live happily ever after.
Now only if things were as smooth as that.
As I well known, no real estate transaction can happen in Delhi-National Capital Region in full white money i.e. the full payment is made through a cheque, demand draft, bank transfer etc. A part of the transaction will always have to be carried out in black, which means a payment needs to be made in cash.
How would a Rs 3 crore sale go? Around Rs 1-1.3 crore would be paid in black. The remaining would be in white. Typically, when this happens, the black money is then used to buy more flats, and this is how the vicious cycle of black money continues.
In this case, the flat in the new locality costs around Rs 1.5 crore. Of this around Rs 50 lakh will have to be paid in black. And the remaining in white. This means that of the Rs 1-1.3 crore of the original black money received, around Rs 50-80 lakh will remain.
This is a lot of black money for someone who has never really dealt with black money. What does he do with this black money? At his age, there is no point in investing in more flats (given that the real estate sector is down in the dumps and also the fact that more money would be needed to do the same) or buying gold for that matter.
Given this conundrum, the sale is stuck. At his age, there is no possibility of a home loan as well.
In fact, this is an excellent example of a situation where an individual is asset heavy and liquidity light. Of course, in this case, he didn't arrive at this situation because of the choices he made. Over the years, that is exactly how the situation turned out to be.
A part of Delhi, which no one really wanted to go and live in, turned out to be its most posh part, over a period of three decades and more. And given, this real estate prices sky-rocketed. A flat which cost Rs 3 lakh, was worth 100 times or Rs 3 crore, nearly 35 years later. This means a whopping return of 14 per cent per year (without taking any maintenance cost into account). In fact, at its peak price nearly five years back, the flat would have gone for anywhere between Rs 3.5-4 crore.
Of course, from the investment point of view, it has been a superb investment. But 35 years later, the situation is such that the flat cannot be sold. And this is a lesson for everyone who believes that real estate is the best way to invest.
The biggest problem with real estate is that it lacks the liquidity of other forms of investment, even though the returns might be superb. While, in this case my relatives can continue to live in this flat, so it doesn't matter much. But there are other cases when people need liquidity to meet expenses, like the higher education of their children, their weddings, a medical emergency, and so on. In a real estate market like the one that exists today, selling a property quickly at the right price (if at all there is anything like that in Indian real estate) is never easy.
Of course, one can always take a loan against property, but then even that has to be repaid and the regular income may not be good enough to repay that loan.
This is something that everybody who swears by real estate as the best form of investment, should keep in mind.
Real estate may not have the liquidity, when you need money the most.
What happens then?
The column originally appeared on Equitymaster on October 24, 2017.