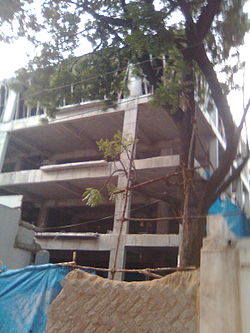 It has been a while since I wrote anything on real estate and the only reason for it is the sheer lack of data on the sector.
Recently, the real estate consulting firm PropEquity released some interesting data and that gave me sufficient reason to write one more piece on real estate.
As per the data, f or the period between January and May 2017, the housing sales fell by 41 per cent to 1.1 lakhs, across 42 major cities. During the same period in 2016, the housing sales had stood at 1.87 lakh.
The interesting thing is that the launch of new homes has also come down considerably. For the first five months of the current year, which are under consideration here, the launch of new homes fell by 62 per cent to 70,450 units. During the same period in 2016, the launch of new homes had stood at around 1.86 lakh.
The new home launches are a good indicator of the appetite investors have for real estate. And that has clearly come down big time. So, what is happening here? One, people are not buying ready to move in homes from builders. And two, they aren't interested in under-construction property, where investment returns tend to be very high, either.
Why has that been the case? Typically, a significant portion in any real estate deal tends to be carried out in black. When going about a real estate deal, a significant part of the transaction is in the form of cash which changes hands, and for which there is no record. This cash may be black money where no taxes have been paid. Or it could even be white money, where taxes have been paid, but which is now becoming black.
For most of the period January to May 2017, there wasn't enough sufficient cash going around in the financial system. This was because of the demonetisation announced on November 8, 2016, by the prime minister Narendra Modi.
Take a look at Figure 1. It plots the gap between the currency under circulation as on November 4, 2016 (a few days before demonetisation) and at the end every week between January and May 2017.
Figure 1: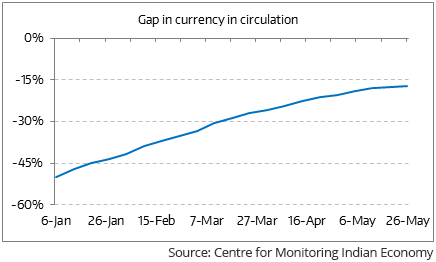 What does Figure 1 tell us? On January 6, 2017, the currency in circulation was around 50 per cent of the currency in circulation as on November 4, 2016. This meant that the gap was also around 50 per cent. Since then, the currency in circulation has kept increasing every week, as the RBI has printed and pumped money into the financial system, and this has led to the gap coming down. Hence, as on May 26, 2017, the currency in circulation was at around 83 per cent of the currency in circulation as on November 4, 2016. Given this, the gap had come down to around 17 per cent.
So, what does this tell us? It tells us that there wasn't enough cash going around in the financial system for people to carry out transactions in cash. Given this, people were not in a position to pay the black part of any real estate transaction in cash. This essentially meant that real estate transactions collapsed and were down by 41 per cent during the first five months of the year.
It also tells us that many of those who wanted to sell real estate just sat on it, instead of carrying out the transaction in 100 per cent white amount, as was the hope post demonetisation.
By the end of March 2017, the financial system had nearly 75 per cent of the currency in circulation as on November 4, 2016. The point being that there was enough money to go back to making black payments as a part of real estate transactions. But that doesn't seem to have happened, with new home launches down by a whopping 62 per cent during the period.
One answer for that might lie in a change that finance minister Arun Jaitley made in this year's budget. Up until last year, home loans taken to finance self-occupied homes, were allowed a deduction of up to Rs 2 lakh for the interest paid on the home loan against taxable income.
For home loans taken to finance non-self-occupied homes, any amount of interest on the home loan could be deducted to arrive at taxable income. This was allowed as long as the real rent (if the home was rented out) or the notional rent(if the home wasn't rented out, but the rent the home owner was likely to earn if he would rent it out), was adjusted against it.
Typically, given the high home prices, the interest paid on a home loan these days, is many times the rent a home is likely to earn, if rented out. This essentially ensures that by buying a second home, individuals could create a massive tax deduction and bring down their taxable income dramatically. The corporate crowd used this anomaly with great success by buying second and third homes, as they went up the hierarchy. And after buying these homes, they kept it locked, thus creating a shortage for homes available for rent.
In his budget speech, the finance minister Arun Jaitley limited all such deductions (for self occupied as well as other homes financed through home loans) to Rs 2 lakh. This has basically ensured that the market for homes to be create a tax deduction has now effectively come to an end.
This is another factor which has basically ensured that the demand for finished homes as well as under-construction property has come down dramatically during the first five months of this year.
Regular readers would know that I have been recommending this for a few years now. In an era of exceptionally high home prices, why should the government be encouraging people to buy homes in order to benefit from a massive tax deduction. Also, those who buy more than one home, aren't exactly poor. Hence, why pander them like this? So, finally after many years this anomaly has thankfully been done away with.
This brings us to the last and the most important point of the piece. While, the sales and prospective sales of real estate have come down dramatically, what has the impact been on the prices front?
The National Housing Bank relaunched its real estate index RESIDEX yesterday. As per the press release: "NHB RESIDEX for January-March,2017 revealed that price indices for residential properties based on actual market prices for ongoing construction prices have increased over the previous quarter in 24 of the 47 cities covered in the Index including in Jaipur, Chennai, Lucknow, Guwahati, Howrah, Hyderabad, Bidhannagar etc. In Delhi, Faridabad, Chandigarh, Patna and Nashik etc, prices have come down."
What this tells us is that the broader trend in prices across India hasn't gone anywhere post demonetisation. On the whole prices haven't changed much What does this tell us? It tells us that builders have great staying power. The amount of money that they have made and stashed away in the real estate bull run between 2002 and 2011, allows them a tremendous staying power.
Also, many real estate companies are fronts for politicians and there is no point for them in annoying politicians by cutting prices and selling homes. Instead of selling homes at lower prices, the builders would rather sit on it, and which is what they are doing.
The trouble with this is that the longer they do this, the longer the time correction of prices will last i.e. the prices may not go down in nominal terms, but if we take inflation into account over the years, they would have gone down substantially.
The thing is that this time correction is not enough. If the real estate market has to revive, actual real estate prices need to fall. Yeah, I know I have been repeating this like a cuckoo clock over the years, but that is the only way out of the mess that prevails.
Postscript: In the next edition of the Vivek Kaul Letter, I will be discussing the newly launched NHB RESIDEX index in detail. For the first time, there is some detailed price data that has been made available across multiple cities. And that should make for an interesting piece of analysis and reading. Do keep a lookout.
The column originally appeared on Equitymaster on July 11, 2017.