One of the things that we have learnt in the business of economic forecasting is to highlight the forecasts that we get right and tom-tom about it. The new Reserve Bank of India deputy governor Viral Acharya said something two weeks back that we seemed to have missed (you know with the media expanding at the rate it has, it is difficult to keep track of everything).
Nevertheless, here we go. Acharya said on March 6, 2017, a few days after his birthday: "I think everyone should keep in mind that the remonetisation is taking place at a very fast pace. We have some way to go, but I think we expect that within two to three months we will reach full currency in circulation. It will be slightly lower, but it is in that ballpark (number)."
What Acharya was basically saying was that by May 2017, the currency in circulation will come to a level around what prevailed before demonetisation rendered Rs 500 and Rs 1,000 notes useless. This is something we have maintained from the very beginning, even though we have been ridiculed about it more than once, as we have gone along. (You can read the pieces here and here).
In fact, if the Modi government is to be believed there was never any problem because of demonetisation. In fact, the finance minister Arun Jaitley, said in early February: "At no point of time, not for a single day, was the currency inadequate." Around the same time the economic affairs secretary Shaktikanta Das, who reports to Jaitley, said something along similar lines when he said that the remonetisation process was complete. Remonetisation essentially refers to the process of printing money and pumping it into the financial system.
We live in Mumbai and not in Delhi. And we don't know Das. But if we did, we would have definitely asked him, if the remonetisation was almost complete in February, why is the RBI deputy governor, who knows a thing or two about such things, saying that remonetisation will be completed only in May 2017.
Now let's get back to look at what Acharya is saying. Take a look at Figure 1. It shows the currency in circulation every week, through late January 2016 to March 10, 2017, the latest data point that is available.
Figure 1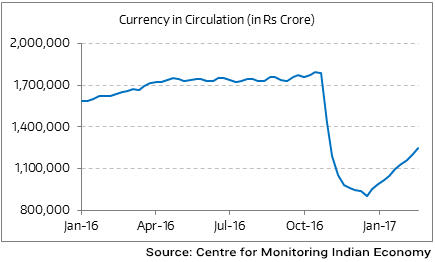 What does Figure 1 show us? It shows us that the currency in circulation fell dramatically in the aftermath of demonetisation. This is not surprising given that more than 86 per cent of the currency in circulation was rendered useless overnight. And it has been rising since early January 2017, as the RBI prints and pumps more new currency into the financial system. The average increase in currency in circulation per week since January 6, 2017, has been Rs 38,645 crore.
At this pace of increase, over a period of 10 weeks, i.e. two and a half months (the average of two to three months that Acharya said), the total currency in circulation by May 19, 2017 (10 weeks after March 10, 2017), will stand at Rs 16.32 lakh crore (Rs 12.46 lakh crore as on March 10, 2017 + Rs 3.86 lakh crore added over the 10 week period). If we go for the full three months, then the total currency in circulation as on June 2, 2017(12 weeks after March 10, 2017) will stand at Rs 17.10 lakh crore.
The currency in circulation before demonetisation was announced stood at Rs 17.98 lakh crore (as on November 4, 2016). If we end up with a currency in circulation of Rs 17.10 lakh crore after remonetisation is complete, the total currency in circulation would have fallen by around 4.9 per cent. If we end up at Rs 16.32 lakh crore, then the currency in circulation would have fallen by around 9.2 per cent.
If the currency in circulation is expected to come down by around 5-9 per cent, then what was the point in disrupting the economy in such a big way, is a question worth asking. Of course, the way things are these days, we won't get answers. All we will be told is that in the long term, demonetisation will be beneficial.
Further, in this age of relentless media, people have forgotten by now that going digital wasn't on the original list of aims of demonetisation. It was subtly introduced only once the original aims of tackling black money and fake notes, went out of the window.
What does Acharya's comment and our analysis accompanying it, tell us? It tells us, something we have been saying recently, that Indians are going back to cash. The brief spurt in digital transactions has been reverted and this shall become more and more obvious as we go along. It also means that the RBI will have to print and remonetise a greater portion of the demonetised currency. If it does not do that then there is the risk of not enough currency going around in the economy and that will have an impact on the total number of economic transactions.
The RBI of course recognises this. It recognises the fact that an adequate amount of currency is needed in the economy. It also recognises that digital transactions despite all the hype around them haven't really taken off. In this scenario, more and more new currency will have to be introduced into the economy.
Having said that the RBI, under the new dispensation of Urjit Patel, can't say this in a very direct way. Nevertheless, sometimes we do have to read between the lines to understand the real message behind what is being said.
The column originally appeared in Equitymaster on March 21, 2017.