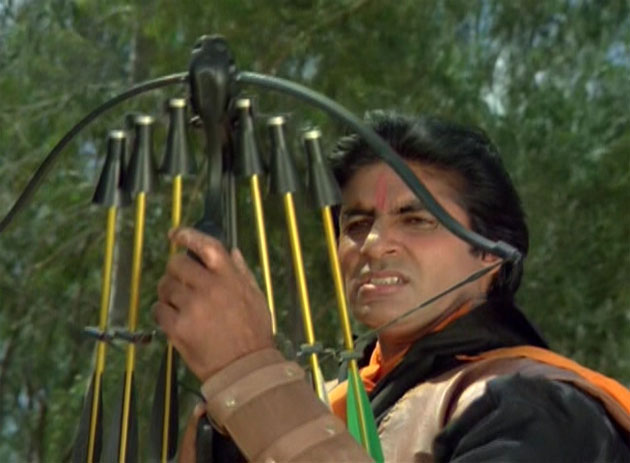 The reasons behind the success of Amitabh Bachchan are well analysed. People have talked about his deep baritone voice. His tall and brooding persona. His legendary acting skills. And the fact that his portrayal of the angry young man captured the frustrations of an entire generation.
Bachchan may have succeeded because of all these reasons and more. Nevertheless, there is a something that people never seem to talk about—the role that luck played in Bachchan's success. Bachchan's golden era started with the success of Zanjeer, which was released in 1973.
But the fact of the matter is that he was not the first choice for the role of Inspector Vijay Khanna, the lead character in the movie. This became the first of the many angry young man roles that Bachchan would eventually play. As Diptakirti Chaudhuri writes in Written by Salim Javed—The Story of Hindi Cinema's Greatest Screenwriters: "Not one major star of the day was ready to act in the film".
The script was first sold to Dharmendra for a princely sum of Rs 2,500. The actor's brother Ajit Singh Deol was supposed to produce the movie and Prakash Mehra would direct it. Things did not work out between Ajit Deol and Mehra, and as a reason Dharmendra opted out of the movie.
The script then went to Dilip Kumar. As Chaudhuri writes: "[Kumar] thought it would make a very good film but felt the lead character was too one-dimensional and did not allow enough scope for 'performance'."
The script then went to Dev Anand. At that point of time both Salim Khan  and Javed Akhtar felt that this would be a "horrible miscasting". Anand asked for a couple of songs to be picturised on him and that was that. The story continued.
Mehra approached Raj Kumar. "He too loved the script, probably because he had been an inspector before joining films, and agreed to do the role, but—and this was a big but—he wanted the film to be shot in Madras. One apocryphal story goes that he did not like the smell of Prakash Mehra's hair oil and made this preposterous demand to wriggle out of having to work with him," writes Chaudhuri.
After all these stars refusing to do the film, the script landed with Bachchan. As Chaudhuri writes: "Partly out of desperation and partly out of respect for Salim-Javed, and Pran[who had a pivotal role in the film], Prakash Mehra signed Amitabh Bachchan." And the rest as they say is history.
The broader point here is that if any of these stars had taken on the role of Vijay Khanna that was offered to them, Bachchan's story may have turned out to be remarkably different than it eventually did.
Before Zanjeer, the only performance of his worth recalling was in the film Anand, as a side-hero to the then superstar Rajesh Khanna. After Anand, Bachchan had done a bunch of forgetful films. And that is how things would have continued, if Zanjeer had not come his way. In fact, his career could have fizzled out very quickly and he wouldn't have survived as long as he eventually has.
A sort of a similar story played out with Hollywood star Al Pacino, as well. Pacino first shot to fame, a year before Bachchan, in 1972, when The Godfather was released. Pacino played the character of Michael Corleone in this movie, who was the youngest son of mafia boss Vito Corleone (played by the legendary Marlon Brando).
As Robert H Frank writes in Success and Luck—Good Fortune and the Myth of Meritocracy: "Studio executives…wanted to cast Robert Redford, Warren Beatty, or Ryan O'Neal to play Michael Corleone in Francis Ford Coppola's film adaptation of Mario Puzo's The Godfather. Coppola, however, wanted an unknown actor, someone who actually looked like a Sicilian."
But Coppola was clear that he wanted Pacino and threatened to abandon the project if anyone else was signed on. This forced the studio executives to agree and Pacino landed up with the role of Michael Corleone.
As Frank writes: "In Puzo's novel, Vito Corleone was the central character. But Vito's youngest son Michael is clearly the protagonist in Coppola's adaptation. Pacino, who had previously appeared in only two minor films, thus landed what turned out be the most important role in what many critics have called the best film ever made."
Interestingly enough Coppola was a young film director at that point of time and as Frank writes: "Inexperienced directors almost never get their way into disputes with studio bosses." But Coppola did.
The point being that hard work and talent are important for success but they are of no use without luck and opportunity. As Frank writes: "Those who believe that talent and hard work inevitably triumph might argue that because Pacino was relatively young at the time, his skills would have eventually made him successful even if he hadn't landed the Michael Corleone role. But there are many thousands of highly talented actors who just never get the right opportunity to demonstrate their skill."
Like Pacino got the lead part in The Godfather, Bachchan got it in Zanjeer. They were lucky to get these parts, which gave them a huge opportunity to showcase their real talent. Of course, after they became successful, a narrative was created around their success. This narrative pointed out to their talent, their hard work and so on.
While all that is true, one cannot take away the fact that at a certain point of time, they were very lucky. And that luck gave a fillip to their careers. As Frank writes: "It is almost easy to create a narrative after the fact that portrays such outcomes as having been inevitable. Yet every event is the outcome off a complex interwoven sequence of steps, each of which depends on those preceding it. If any of those earlier steps had been different, the entire trajectory would almost surely be different, too."
(Vivek Kaul is the author of the Easy Money trilogy. He can be reached at [email protected])
The column originally appeared on April 26, on www.valueresearchonline.com