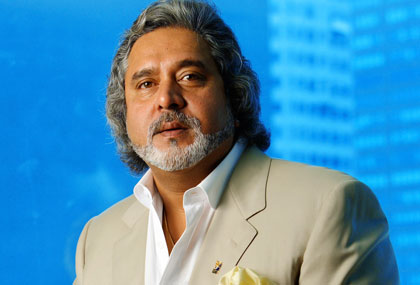 A WhatsApp forward I received today morning went something like this: "Mallya ka intezar to 17 bank kar rahe hain…Mallya ko pakadna mushkil hi nahi namumkin bhi hai." The forward was obviously a play on the dialogue that Amitabh Bachchan made famous in his 1978 movie Don.
Meanwhile Vijay Mallya who owes seventeen Indian banks Rs 9,000 crore(or Rs 7000 crore depending on which newsreport you want to believe) seems to have left the country. The attorney general Mukul Rohatgi told this to the Supreme Court today. Mallya left the country on March 2, 2016, the day the banks moved the Debt Recovery Tribunal(DRT) against him.
The banks had approached the DRT in order to stop the severance payment of $75 million (or a little over Rs 500 crore) that Diageo Plc was supposed to make to Mallya, in lieu of him stepping down as Chairman of United Spirits Ltd. Mallya has also entered into a five-year non-compete clause with Diageo. This payment is supposed to be made over a period of five years.
The DRT directed Diageo not to make any payments to Mallya until the case is disposed of. It has set the next hearing date for March 28, 2016. A report in The Times of India seems to suggest that Mallya may have already been paid $40 million out of the $75 million that he had been promised.
The newspaper quotes the fine print of the agreement that Mallia inked with Diageo on February 25, last month: "Diageo will pay $40 million of this amount immediately with the balance being payable in equal instalments over five years. Diageo's payment obligations are subject to Mallya's ongoing compliance with the terms of the agreement."
The question is why are the banks going after Mallya? In India, the banks going after a corporate defaulter is something unheard of. But this time they seem to have the blessings of the RBI governor Raghuram Rajan.
Also, typically when banks lend a big amount, they lend it against a collateral. The idea is that if the borrower defaults, the banks can sell the collateral and recover their money.
So why are the banks going after Mallya instead of just selling the collateral and recovering their money? This is precisely the question that Justice Kurian asked the Attorney General in the Supreme Court today. "How did you give these loans. Was there no secured assets on these loans?" he asked.
It turns out that the banks had lent against the brand value of Kingfisher Airlines, which at that point of time was worth some thousand crores. After the airline shut down the value of the brand crashed, and the banks ended up with nothing. "We had some assets (as security) for the loans advanced," Rohatgi said.
The Indian Express cites the 2012-2013 annual report of Kingfisher Airlines and writes that the Kingfisher Airlines brand was worth $550 million. The airline's brand had been valued by the consultancy firm Grant Thorton. Further, it had been registered separately from the Kingfisher beer brand.
The newspaper further quotes CBI sources as saying: "Lending on the brand value of Kingfisher Airlines is a major concern. We have questioned the banks. It is basically an intangible asset. We are digging into the issue."
A report in The Hindustan Times points out that IDBI Bank lent Rs 900 crore to Kingfisher Airlines against its brand in 2012-2013. By this time, the airline had already started making losses.
The question that crops up here is that do banks normally lend such a huge amount of money against the brand value of a company, which is clearly an intangible asset. Further, do banks lend money against an intangible asset, to a company which is making losses?
Another important point that needs to be made here is that an intangible asset like a brand normally tends to be overvalued. It is precisely because of this reason companies cannot have the value of their brands on their balance sheets unless they have bought it from someone else.
Given this, why lend so much money against a brand? Interestingly, the Kingfisher Airlines brand name was pledged to 14 lenders. As a report in The Indian Express points out: "The airlines brand name was pledged to 14 lenders, including State Bank of India (SBI), IDBI Bank, Punjab National Bank, Bank of India and Bank of Baroda under a debt recast agreement in which loans valuing Rs 6,500 crore were restructured and converted into equity."
There is a lot of talk in the media about how could banks lend such a huge amount of money against the Kingfisher Airlines brand. The answer is very simple. The lending happened during the go go years of Indian banking when crony capitalists close to the government of the day, got loans way beyond their repayment capacity. Mallya is not the only such businessman, there are many more.
This explains why the Congress party which is quick to seize-in on any issue which would embarrass the government has been quiet on this issue, up until now. And how about the Bhartiya Janata Party, which is the governing party? The party had supported Mallya's election to the Rajya Sabha in 2010.
Mallya in his defence wrote an open letter to the media a few days back. In this letter he said: "In fact, banks have NPAs of Rs 11 trillion and have borrowers who owe much more than the amount allegedly owed by Kingfisher Airlines to the banks—a fact never alluded to or widely reported by the media as in my case…None of these large borrowers (whose debt is significantly more than Kingfisher Airlines debt) have been declared wilful defaulters, but unfortunately, United Breweries Holdings and I have been declared wilful defaulters by certain banks on technical grounds. I have legally challenged these declarations."
This is true. As of December 2015, the total gross non-performing assets(NPAs) of the Indian banking system stood at Rs 3.9 lakh crore. The loans Mallya and his companies have defaulted on form a small part of the total NPAs of the banking system. But that doesn't mean Mallya should be allowed to get away with it.
In fact, if the government wants the other bid defaulters to pay up, it is very important that it ensures that Mallya is made to pay up. The way things go with Mallya will act as a benchmark for the other big defaulters.
The trouble with Mallya is that he has a very flashy lifestyle. And it is very evident that he continues to flaunt his money despite having defaulted on the loans. As Raghuram Rajan, governor of RBI recently, put it: "If you are in trouble you should show that you care by cutting down your expenses and not flaunting more spending in public."
Further, the employees of Kingfisher Airlines continue to remain unpaid. Also, the fact that Mallya gobbled up their provident fund payments as well, did not do any good to his image.
The point being that if Mallya had had a less flashy lifestyle like some other big defaulters have, the banks would have probably not gone after him. There wouldn't have been a public outcry and all the hungama in the media, either.
To conclude, Mallya's fall is an excellent example of a businessmen going beyond his core area and ending up in huge trouble. Mallya ran a successful liquor business until he thought up of running an airline. And that is precisely where all his troubles started.
Airlines continue to remain a difficult business to run. Only if, Mallya had happened to read what legendary investor Warren Buffett had to say on airlines: "The worst sort of business is one that grows rapidly, requires significant capital to engender the growth, and then earns little or no money. Think airlines. Here a durable competitive advantage has proven elusive ever since the days of the Wright Brothers. Indeed, if a farsighted capitalist had been present at Kitty Hawk, he would have done his successors a huge favor by shooting Orville down. The airline industry's demand for capital ever since that first flight has been insatiable. Investors have poured money into a bottomless pit, attracted by growth when they should have been repelled by it."
But then Mallya was busy…with his IPL team…with his Formula One team…with his Kingfisher models…with his calendar…
When making a calendar becomes as important as running multiple businesses…guess this is how it ends!
(Vivek Kaul is the author of the Easy Money trilogy. He tweets at @kaul_vivek)
The column appeared originally on Huffington Post India on March 9, 2016