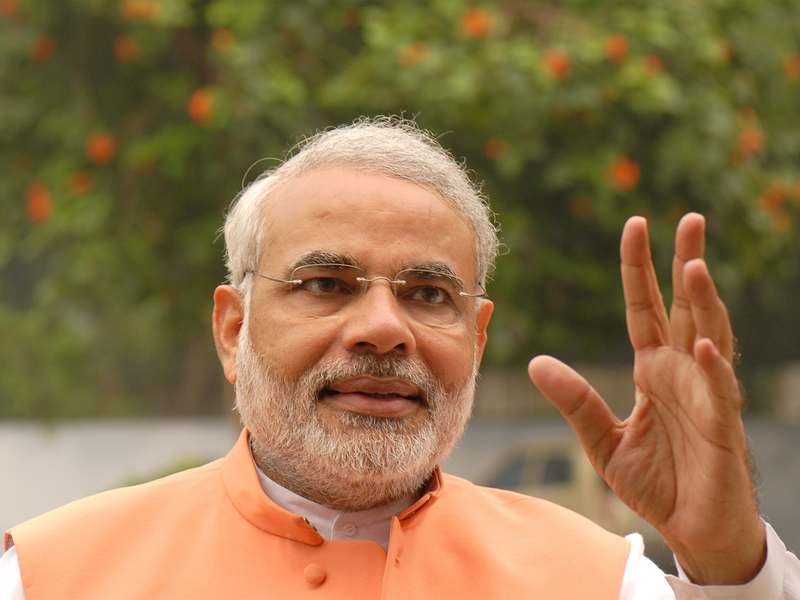 One of the strong points in favour of Prime Minister Narendra Modi in the run-up to the Lok Sabha elections last year was his tenure as the chief minister of Gujarat. He was seen and projected as a no-nonsense guy who got things done. Also, unlike the Gandhi family led Congress party, Modi did not come with any baggage.
In fact, Modi, as chief-minister, handled many important portfolios himself. After he was elected as chief minister of Gujarat again in December 2012, Modi kept important portfolios like home, industry, information, ports, general administration, science and technology, climate change, Narmada and all policies, with himself.
Given this long list of portfolios, power in Gujarat was very centralized around the chief minister's office. Further, Modi chose to operate through trusted bureaucrats. This allowed him to cut through the red-tape that is a part of every government and ensured that things happened at a fast pace. This further helped project Modi's image as a doer.
A paragraph from William Easterly's book The Tyranny of Experts best explains the situation Modi was in: "The leader may have unconstrained power [i.e. Modi as chief minister in this case], but his intentions concerning what to do with that power are presumed to be good. He…just needs expert advice to accomplish good things."
This was a model that worked for Modi in Gujarat and he brought it to Delhi as well. The prime minister's office like the chief minister's office in Gujarat is a very strong one. There is nothing wrong with this.
The only trouble is that in order to implement the economic reforms that he had promised during the course of the run up to the Lok Sabha elections, Modi needs much more than just a strong Prime Minster's office. He needs votes in the Rajya Sabha that he does not have. These economic reforms are necessary in order to create jobs for nearly 13 million Indians that are entering the workforce every year.
One theory that has been projected by experts and analysts is that the Bhartiya Janata Party (BJP) led National Democratic Alliance will set their weakness in the Rajya Sabha right by 2017. The logic being that by then the BJP would have won a sufficient number of state assembly elections. And it is members of state assemblies who elect Rajya Sabha members. This also explains why Narendra Modi is campaigning so hard in Bihar.
The trouble is that unlike the Lok Sabha members, all Rajya Sabha members are not elected at the same time. The members have staggered six years terms. Further, one-third of the members retire every two years.
Given this, it is unlikely that even by 2019, the BJP led NDA will have a majority in the Rajya Sabha. As Pradeep Kaushal wrote in The Indian Express earlier this year: "Between now and 2019, when the Modi government's term ends, the NDA will just about cross the  100-seat mark in the House — and that's in the best-case scenario. That will leave it well short of the halfway point in the Rajya Sabha, which has an optimum strength of 250." The current strength of Rajya Sabha is 244 members.
Kaushal further wrote: "Taking best-case scenarios of the BJP getting a simple majority in Bihar, and doing well in the West Bengal and Uttar Pradesh Assembly polls, the party can reach only around 70 by the end of its tenure."
Given this, all important economic legislation will continue to remain stuck. This includes land acquisition reforms, which the government seems to have given up on and the goods and services tax, which remains stuck.
In this scenario, what Narendra Modi needs to understand is that his lone-wolf act who gets things done, is no longer working. He needs to reach out to parties outside the NDA, if any economic reform has to be pushed through.
What needs to be pointed out here is that the Congress party has around 68 members in the Rajya Sabha. Further, as members retire, this number is going to come down in the years to come given that the Congress no longer rules as many state assemblies as it used to in the past. And this is a factor that both Modi and the BJP need to exploit. They can seek inspiration from Atal Bihari Vajpayee who successfully ran a coalition of more than twenty political parties.
Also, the excuse that the Congress party is not letting it do things, doesn't really hold. It is behaving exactly in the way that BJP did when it was in opposition. Every government has to face the opposition and work around and along with it.
Further, Modi needs to stop coming up with big hairy audacious goals. As analysts Saurabh Mukherjea and Sumit Shekhar of Ambit Capital wrote in a recent research report titled Civil servants burn the midnight oil in Delhi amidst growing policy drift: "To be fair to the NDA, most of its problems are typical of any
Indian Government which juggles with paucity of funds and scarcity of talent. Where the NDA is different is in its desire to constantly announce Big Hairy Audacious Goals – policymakers repeatedly tell us that most of the targets that the ministers announce to the media have little or no feasibility analysis to support them. The more seasoned policymakers say that these targets can create issues for the NDA as it gets further into its tenure and is held accountable for its targets."
Modi and NDA have set enough Big Hairy Audacious Goals for this particular term, be it general goals like Make in India or Digital India or Skill India or specific ones like increasing the share of manufacturing in the economy or rural electrification or increasing coal production. Over and above this they made many electoral promises as well in the run up to the Lok Sabha elections.
Easterly in his book The Tyranny of Experts quotes the Nobel Prize winning economist Gunnar Myrdal. As Easterly writes quoting Myrdal: "The political leaders of…countries have to arouse ambitions among the masses" because "this is their means of acquiring power." The leaders know that "the aspirations which they know they can arouse successfully are the cravings for…economic development.""
This is what Modi and the BJP did in their quest to win the last Lok Sabha elections. And now it is time they started working towards achieving these goals and aspirations and delivering economic development, because if they don't, all the promises that they made in the run up to the last Lok Sabha elections, might just turn out to be a marketing gimmick.
And marketing gimmicks don't work twice.
The column appeared on The Daily Reckoning on Sep 2, 2015