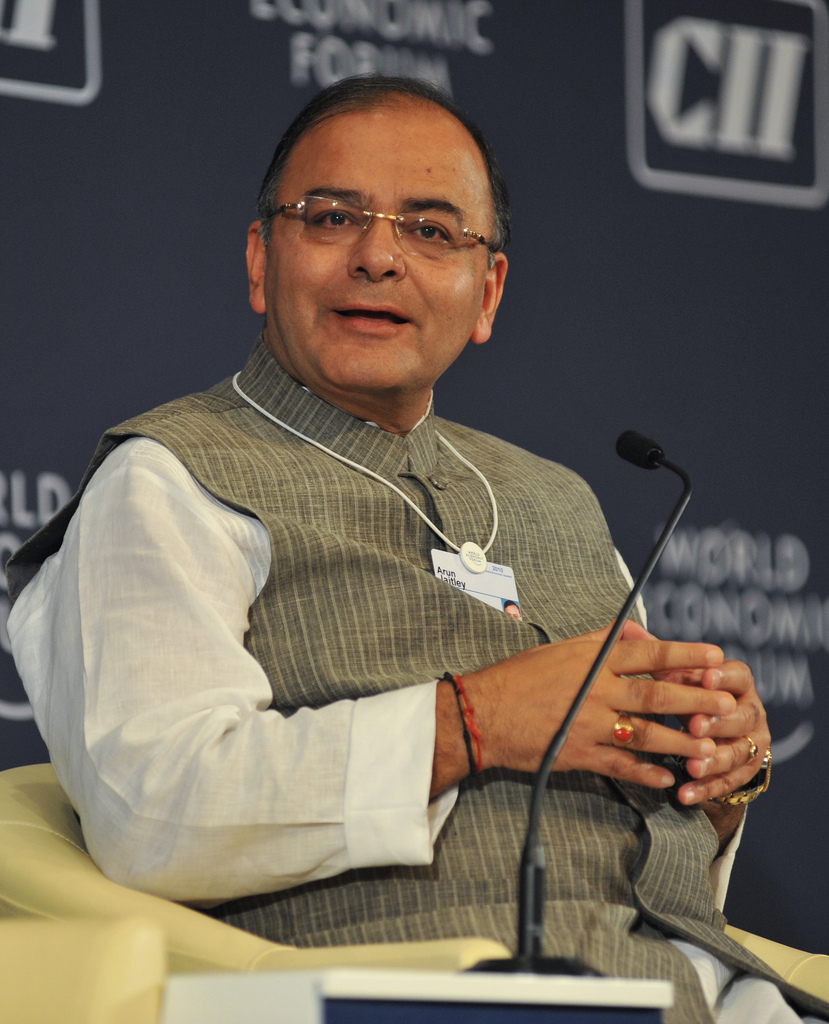 The finance minister Arun Jaitley is at it again. A recent report in the Business Standard suggests that Jaitley is scheduled to meet public sector banking chiefs on this Friday i.e. June 12, 2015, and ask them why they haven't cut interest rates in line with the Reserve Bank of India (RBI) cutting the repo rate.
The RBI has cut the repo rate by 75 basis points (one basis point is one hundredth of a percentage) to 7.25% since the beginning of this year. Repo rate is the rate at which RBI lends to banks. In response banks have cut their lending rates by only 30 basis points.
The finance minister wants to know why banks have not matched the RBI rate cut when it comes to their lending rates even though they have cut their deposit rates by close to 100 basis points over the last one year.
The finance minister believes that at a lower interest rate people and companies will borrow more, and banks will lend more. But as I have often said in the past this is a very simplistic assumption to make.
First and foremost a cut in the repo rate does not bring down the legacy borrowing costs of banks. Hence, lending rates cannot always fall at the same speed as the repo rate. Further, data from the RBI shows that as on May 15, 2015, nearly 29.9% of aggregate deposits of banks were invested in government securities. This when the statutory liquidity ratio or the proportion of deposits that should be invested in government securities, stands at 21.5%.
So what does this mean? Banks have way too much investment in government securities. In fact, as on May 15, 2015, the total aggregate deposits of banks stood at Rs 87,39,610 crore. Of this amount around 29.9% or Rs 26,14,770 crore is invested in government securities.
As things currently stand, banks investing Rs 18,79,016 crore in government securities would have been suffice to meet the regulatory requirement of 21.5%. What this means that banks have invested Rs 7,35,754 crore more than what is required in government securities.
Why is that the case? The answer could be lazy banking or the lack of decent loan giving opportunities going around. Clarity on this front can only come from banks doing the necessary explaining.
There are other things that Jaitley needs to consider as well. The bad loans or gross non-performing assets of banks have been going up. As on March 31, 2014, they had stood at 3.9% of their total advances. By March 31, 2015, the number had shot up to 4.3% of the total advances.
The situation is worse in case of public sector banks. As on March 31, 2015, the stressed asset ratio of public sector banks stood at 13.2%. The stressed assets ratio of public sector banks as on March 31, 2014, was at 11.7%. The stressed asset ratio of the overall banking system was at 10.9% as on March 31, 2015 and 9.8% as on March 31, 2014.
The stressed asset ratio is the sum of gross non performing assets(or bad loans) plus restructured loans divided by the total assets held by the Indian banking system. The borrower has either stopped to repay this loan or the loan has been restructured, where the borrower has been allowed easier terms to repay the loan by increasing the tenure of the loan or lowering the interest rate. Hence, a stressed assets ratio of 13.2% essentially means that for every Rs 100 given out as a loan, Rs 13.2 has either been defaulted on or has been restructured.
What this clearly tells us is that the situation of the public sector banks has gone from bad to worse, over the last one year. In this situation it is hardly surprising that the banks have cut their fixed deposit rates but haven't cut their lending rates by a similar amount.
With increased bad loans, they need to earn a higher margin on their good loans, to maintain or increase the level of profits. This scenario has arisen primarily because many corporates have been unable to repay the loans they had taken on.
Banks have not been able to recover these loans. A newsreport in The Economic Times yesterday, pointed out that the RBI is mulling a new rule that will give lenders a 51% equity control in a company, which fails to repay a loan even after its loan conditions have been restructured. Whether this happens remains to be seen. Further, many companies which failed to repay loans belong to crony capitalists who continue to be close to politicians.
Also, it needs to be pointed out that the corporate profits as a share of the gross domestic product is at 4.3% of the GDP, which is the lowest since 2004-2005. (I would like to thank Anindya Banerjee who works with Kotak Securities for bringing this to my notice).
What this tells us is that corporates as a whole are still not earning enough to be able to repay any fresh bank loans that they may take on. In this scenario insisting that the banks cut interest rates and lend is not the most suitable suggestion to make.
The Economic Survey released earlier this year had a very interesting table, which I have reproduced here.
Top Reasons for stalling across ownership

Source : CMIE
What the table clearly shows is that a lack of funds is not one of the main reasons for the 585 stalled projects in the private sector. In case of the 161 stalled government projects, the lack of funds is the third major reason. Hence, there are other reasons which the government needs to tackle, in order to get these projects going again. Lack of finance is clearly not a main reason.
Further, the high interest rates on post office savings schemes put a floor on the level to which banks can cut their fixed deposit rates and in the process their lending rates. This is something that the public sector banks can do nothing about.
To conclude, what all these reasons clearly suggest is that Arun Jaitley and this country would be better off if we got rid our fixation for lower interest rates being a solution to reigniting economic growth. There are other bigger things that need to be sorted out first.
The column originally appeared on The Daily Reckoning on June 9, 2015