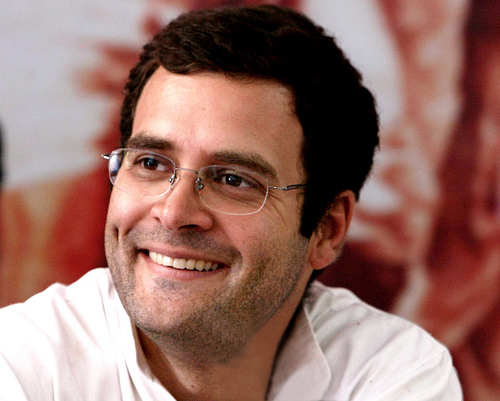 Rahul Gandhi seems to have taken a liking to calling the Narendra Modi government a "suit boot ki sarkar". He made that jibe again in the Parliament yesterday where he said: "This government is anti-farmer, anti-poor. This is a suit-book ki sarkar."
Rahul, as he did in the past, was trying to suggest that the Modi government was essentially batting for the corporates and not for the farmers of this country. But what the Gandhi family scion is forgetting in the process is that only a few years back India's largest listed real estate company DLF was batting for his brother-in-law Robert Vadra.
Let's recount what happened in the case of DLF and Vadra. DLF gave a Vadra and advance of Rs 50 crore for more than three years, and this advance was the money used by Vadra to go on a land buying spree in Rajasthan as well as Haryana, with more than a little support from the respective Congress governments in both these states. As we shall see Vadra had very little of his own money in the business and without the money from DLF he wouldn't have been able to do anything. What does Rahul Gandhi have to say about this link?
In October 2012, the Daily News and Analysis(DNA) reported that between July 2009 and August 2011, Vadra bought at least 20 plots of land with an area of more than 770 hectares in Bikaner district in Rajasthan. In fact Vadra was willing to pay Rs 65,000 per hectare of land when the going rate was not more than Rs 30,000 a hectare
The Gandhi family son-in-law made these purchases through companies which included Real Earth Estates Pvt Ltd, North India IT Park Pvt Ltd, and Skylight Realty Pvt Ltd. As the DNA report pointed out: "A clutch of investors, including Vadra, apparently privy to information on upcoming industrial projects in the vicinity, reaped huge profits with land values appreciating by up to 40 times since 2009 [the italics are mine]…These companies together invested Rs2.85 crore in barren land here during this period."
So, Vadra bought land being privy to information that ensured that the value of the land would go up many times in the days to come. And he made a killing in the process. Vadra bought land through his companies just before a memorandum of understanding was signed between the Rajasthan government and private firm for a "Rs45,000-crore project to manufacture silicon chips for the telecom industry."
Vadra was essentially trading on insider information, which wouldn't have been difficult to get given that a Congress government led by Ashok Gehlot was in power in the state.
The interesting bit here is how Vadra went about financing the purchase of land. The money for it came essentially came from DLF. One of the Vadra companies which bought land in Rajasthan was Real Earth Estates Private Ltd. The company had an issued capital of Rs 10 lakh as on March 31, 2010.
Nevertheless, as on March 31, 2010, the company had 10 plots of lands listed under fixed assets. These plots were worth were bought for Rs 7.09 crore. Of these three plots were in Bikaner in Rajasthan and had been bought for Rs 1.16 crore. How did a company with an issued capital of Rs 10 lakh manage to buy land which cost Rs 7.09 crore in total?
This is where things get even more interesting. The balance sheet of Real Earth Estates as on March 31, 2010, shows that it had an unsecured loan of Rs 5 crore from DLF. An unsecured loan is a loan in which the lender does not take any collateral against the loan and relies on the borrower's promise to return the loan. Why was DLF being so generous to Vadra? Can Rahul Gandhi give us an answer for that?
Real Earth Estates also had borrowed another Rs 2 crore from Sky Light Hospitality Private Ltd, another Vadra company. The total loan amounted to Real Earth Estates amounted to Rs 7 crore. And this money was used to buy 10 plots of land, of which three plots were in Bikaner.
Where did Sky Light Hospitality get the money to give Real Earth Estates a loan of Rs 2 crore? As on March 31, 2010, Sky Light Hospitality had an issued capital of Rs 5 lakh. How did a company with an issued capital of Rs 5 lakh, manage to give a loan of Rs 2 crore, which was 40 times more.
Enter DLF—the company had given Vadra's Sky Light Hospitality an advance of Rs 50 crore. When the controversy first broke out DLF had said in a statement: "Skylight Hospitality Pvt Ltd approached us in FY 2008-09(i.e. the period between April 1, 2008 and March 31, 2009) to sell a piece of land measuring approximately 3.5 acres…DLF agreed to buy the said plot, given its licensing status and its attractiveness as a business proposition for a total consideration of Rs 58 crores. As per normal commercial practice, the possession of the said plot was taken over by DLF in FY 2008-09 itself and a total sum of Rs 50 crores given as advance in instalments against the purchase consideration."
The first instalment of the Rs 50 crore advance that DLF gave Vadra was paid on June 3, 2008. An October 2012 report in The Hindu points out that " the 3.531- acre plot…M/s Sky Light Hospitality,…[was] sold to DLF Universal Ltd on September 18, 2012."
Hence, the Rs 50 crore advance stayed with Vadra's Sky Light Hospitality for more than three years.
An advance unlike a loan is made interest free for a short period of time. Further, Vadra had access to a part of the Rs 50 crore advance for more than four years, given that the first instalment was paid by DLF in June 2008 and even though the sale was registered only in September 2012.
DLF in its statement tried telling us that this was par for the course. But how many other such advances did the company make. As The Financial Express wrote in an October 2012 editorial: "DLF has not been able to cite other instances of where interest-free advances have been given, and over such long periods of time."
So clearly DLF had a soft corner for Robert Vadra, who is the son-in-law of Sonia Gandhi and the brother-in-law of Rahul Gandhi, the president and the vice-president of the Congress party. The Congress led UPA government was in power between 2004 and 2014.
This Rs 50 crore was at the heart of Vadra's operation and was used by him to buy land as well as flats. Rs 2 crore out of this Rs 50 crore available with Sky Light Hospitality was used to give a loan to Real Earth Estates Private Ltd. Effectively DLF gave money amounting to Rs 7 crore to Real Earth Estates Private Ltd to buy land. Of this Rs 1.16 crore was used to buy land in Bikaner.
What does Rahul Gandhi have to say about this? Now that he has accused the Modi government of being a "suit-boot ki sarkar" and being close to corporates, he could possibly explain this closeness of his brother-in-law Robert with a corporate? After all, Caesar's wife must be above suspicion.
(Vivek Kaul is the author of the Easy Money trilogy. He tweets @kaul_vivek)
The column originally appeared on Firstpost on May 13, 2015