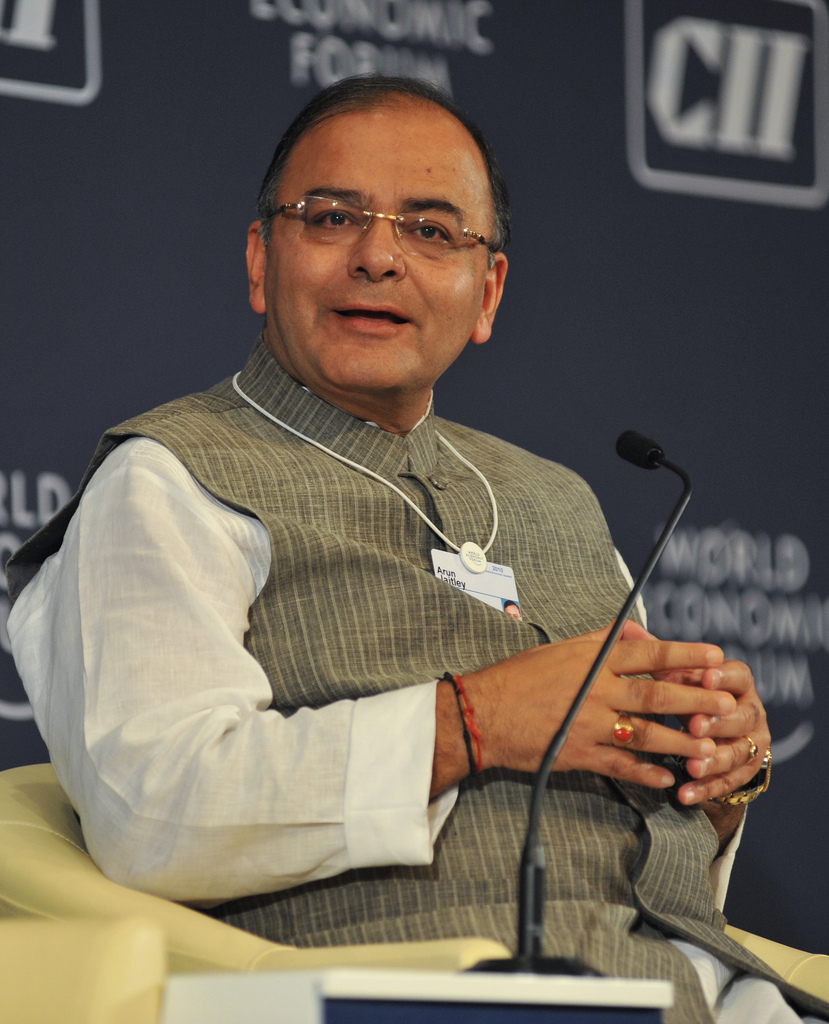 Vivek Kaul
In my past columns I have been critical of finance minister Arun Jaitley for saying things that he has. Take the case of people not buying as many homes as they were in the past. Like the real estate industry in India, the finance minister seems to believe that Indians are not buying homes simply because interest rates and EMIs are on the high side. "If you bring down the rates, people will start borrowing from banks to pay for their flats and houses. The EMIs will go down," Jaitley had said in December 2014.
This as I have explained more than a few times in the past is the wrong argument to make. The EMIs simply don't matter any more when it comes to buying homes—Indians are not buying homes because homes prices are way beyond what they can afford given their income levels. Figuring this out isn't exactly rocket science and given this, the finance minister of the country shouldn't have been making such statements.
Nevertheless, for once I agree with Jaitley. He recently told an industrial gathering: "The whole concept of spending beyond your means and leaving the next generation in debt to repay what we are overspending today is never prudent fiscal policy."
As Mihir S. Sharma writes in his new book Restart—The Last Chance for the Indian Economy: "Economics has very few real laws. In fact, it only has one, but that one is of iron: you cannot spend more than you earn forever."
Typically governments spend more than they earn and thus run a fiscal deficit. This deficit is financed through borrowing. When the borrowing keeps piling up, it needs to be repaid by taxes paid by future generations(our children and their children). And that can never be a prudent policy. The fact that Jaitley understands this (or at least says so in the public domain) is a good thing. It will work well for him during the process of formulation of the next budget which is scheduled to be presented on the last day of this month.
It has been suggested that the finance minister should not bother much about the fiscal deficit while presenting the next financial year's budget. He should unleash a public investment programme in order to ensure that the Indian economy grows at a much faster rate in the years to come, than it currently is.
Leading the increase in public investment charge is  Arvind Subramanian, the Chief Economic Adviser to the ministry of finance. In the Mid Year Economic Analysis released in December 2014, Subramanian wrote: "Over-indebtedness in the corporate sector with median debt-equity ratios at 70 percent is amongst the highest in the world. The ripples from the corporate sector have extended to the banking sector where restructured assets are estimated at about 11-12 percent of total assets. Displaying risk aversion, the banking sector is increasingly unable and unwilling to lend to the real sector."
This has led to a situation where banks aren't interested in lending and corporates aren't interesting in investing. In order to get around this problem Subramanian suggested that: "it seems imperative to consider the case for reviving public investment as one of the key engines of growth going forward, not to replace private investment but to revive and complement it."
A major reason being offered in favour of the government increasing public investment is the fact that oil prices have crashed. As on February 6, 2015, the Indian basket of crude oil was priced at $$55.62 per barrel. On May 26, 2014, the day the Narendra Modi government took oath of office, the oil price was at $108.05 per barrel. Hence, the price of Indian basket of crude oil has fallen by 48.5% since then.
This fall has ensured that the amount of money that the government would have had to pay out as subsidy to oil marketing companies has come down. Oil companies suffer from under-recoveries while selling kerosene and cooking gas. The government compensates them for a part of this loss. Further, it is being assumed by analysts and economists that oil prices will continue to remain low and this will help the government limit the oil subsidy payout in the next financial year.
With the oil subsidy payout being limited the government can spend more money on public investment is a theory that has been put forward.
As analysts Neelkanth Mishra, Ravi Shankar and Prateek Singh of Credit Suisse write in a research report titled FY16 Budget: From famine to feast and dated January 27, 2015: "We believe that the government can raise capex[capital expenditure] by at least 1.2% of GDP in FY16E. It is pocketing a large part of the gains from the oil price decline, and can spend to generate growth."
This is a reasonable assumption to make if the current state of affairs continues. But as I have often pointed out in the past forecasting oil prices is a risky business. There are too many variables at play, especially politics. And once politics enters the equation, normal demand-supply analysis goes out of the window.
As Eric Jensen writes in writes in The Absolute Return Letter for January 2015 titled Pie in the Sky: " "It is now a highly political chess game and, as I have learned over the years, when politics enter the frame, logic goes out the window." The Saudi Arabia and the OPEC, the United States, Russia and many other countries are players in this political game.
Also, it is worth remembering that budgets of countries that produce oil are not balanced at the current level of oil prices. As Eric Jensen writes in The Absolute Return Letter for February 2015 titled The End Game: "The one additional dynamic to consider is the large fiscal deficits in most oil producing countries which is only made worse the further the price of oil drops. Clearly the biggest risk factor in this context is Russia which needs an oil price of around $105 to balance its budget this year."
Countries typically borrow money when their expenditure is more than their earnings. But as Jensen puts it: "It is a fact that virtually none of the world's leading oil producing countries have as easy access to bond markets as we are used to in this part of the world." Hence, low oil prices are hurting oil producing countries the most.
Given this, it is in their interest to ensure that oil prices start rising again in the days to come. In fact, oil prices have been rising from mid January onwards. The price of the Indian basket of crude oil as on January 14, 2015, was at $43.36 per barrel. Since then it has risen by 28.3% to $55.62 per barrel.
Hence, it is important that Arun Jaitley and his team while making the budget make a conservative estimate for the oil price and not get carried away by the recent low levels.
(Vivek Kaul is the author of the Easy Money trilogy. He tweets @kaul_vivek)
The article originally appeared on www.firstpost.com on Feb 10, 2015