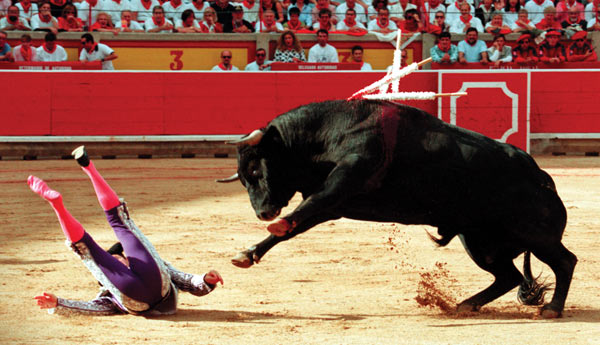 Vivek Kaul
We never know what we are talking about – Karl Popper
The Sensex closed at 28,499.54 points yesterday (i.e. November 24, 2014). The fund managers are confident that this bull run will last for a while. Or so they said in a round table organised by The Economic Times.
Prashant Jain of HDFC Mutual Fund explained that during the last three bull markets that India had seen, the market had never peaked before reaching a price to earnings ratio of 25 times. The price to earnings ratio currently is 16 times, and hence, we are still at a "reasonable distance" from the peak.
This seems like a fair point. But how many people invest in the stock market on the basis of where the price to earnings ratio is at any point of time? If that were the case most people would have invested in 2008-2009, when the price to earnings ratio of the Sensex through the year stood at 12.68.
By buying stocks at a lower price to earnings ratio, they would have made more money once the stock market started to recover. But stock markets and rationality don't always go together. Every investor is does not look at fundamentals before investing. "In investing, fundamentals are the underlying realities of business, in terms of sales, costs and profits," explains John Lanchester in How to Speak Money.
A big bunch of stock market investors like to move with the herd. Let's call such investors non fundamentals investors.
So when do these investors actually invest in the stock market? In order to understand this we will have to go back to John Maynard Keynes. Keynes equated the stock market to a "beauty contest" which was fairly common during his day.
As Lanchester writes "Keynes gave a famous description of what this kind of non-fundamentals investor does: he is looking at a photo of six girls and trying to pick, not which girl he thinks is the prettiest, and not which he thinks most people will think is the prettiest, but which most people will think most people will think is the prettiest…In other words the non-fundamentals investor isn't trying to work out what companies he should invest in, or what company most investors will think they should invest in, but which company most investors will think most investors will want to invest in."
Or as Keynes put it in his magnum opus The General Theory of Employment, Interest and Money"It is not a case of choosing those [faces] that, to the best of one's judgement, are really the prettiest, nor even those that average opinion genuinely thinks the prettiest. We have reached the third degree where we devote our intelligences to anticipating what average opinion expects the average opinion to be."
Hence, a large bunch of investors invest on the basis of whether others round them have been investing. That is the beauty contest of today.
Nilesh Shah, MD and CEO of Axis Capital pointed out in The Economic Times round table that nearly Rs 25,000-Rs 30,000 crore of money will come into the stock market through systematic investment plans (SIPs).
Anyone who understands the basics of how SIPs work knows that they are designed to exploit the volatility of the stock market—buy more mutual fund units when the stock market is falling and buy fewer units while it is going up. This helps in averaging the cost of purchase over a period of time, and ensures reasonable returns.
Investors who are getting into SIPs now are not best placed to exploit the SIP design. Nevertheless, they are still investing simply because others around them have been investing. This also explains why the net inflow into equity mutual funds for the first seven months of the this financial year (between April and October 2014) has been at Rs 39,217 crore. This is when the stock market is regularly touching new highs.
And if things go on as they currently are, the year might see the highest inflow into equity mutual funds ever. The year 2007-2008 had seen Rs 40,782 crore being invested into equity mutual funds. This was the year when the stock market was on fire. In early January 2008, the Sensex almost touched 21,000 points. It had started the financial year at around 12,500 points.
So, now its all about the flow or what Keynes said "what average opinion expects the average opinion to be." And till people see others around them investing in the stock market they will continue to do so. This will happen till the stock market continues to rise. And stock market will continue to rise till foreign investors keep bringing money into India.
No self respecting fund manager can admit to the fact that these are the reasons behind the stock market rallying continuously all through this year. This is simply because all fund managers charge a certain percentage of the money they manage as a management fee.
And how will they justify that management fee, if the stock market is going up simply because it is going up. Nobel prize winning economist Robert Shiller calls such a situation a naturally occurring Ponzi scheme.
As he writes in the first edition of Irrational Exuberance: "Ponzi schemes do arise from time to time without the contrivance of a fraudulent manager. Even if there is no manipulator fabricating false stories and deliberately deceiving investors in the aggregate stock market, tales about the market are everywhere. When prices go up a number of times, investors are rewarded sequentially by price movements in these markets just as they are in Ponzi schemes. There are still many people (indeed, the stock brokerage and mutual fund industries as a whole) who benefit from telling stories that suggest that the markets will go up further. There is no reason for these stories to be fraudulent; they need to only emphasize the positive news and give less emphasis to the negative."
And that is precisely what fund managers will do in the time to come. In fact, they have already started to do that.
They will tell us stories. One favourite story that they like to offer is that India's economy is much better placed than a lot of other emerging markets. This is true, but then what does that really tell us? (For a real picture of the Indian economy check out this piece by Swaminathan Aiyar).
Another favourite line you will hear over and over again is that "markets are never wrong". This phrase can justify anything.
The trick here is to say things with confidence. And that is something some of these fund managers excel at. Nevertheless it is worth remembering what Nassim Nicholas Taleb writes in The Black Swan: "Humans will believe anything you say provided you do not exhibit the smallest shadow of diffidence; like animals, they can detect the smallest crack in your confidence before you express it. The trick is to be smooth as possible in personal manners…It is not what you are telling people, it how you are saying it."
And this is something worth thinking about.
The article originally appeared on www.equitymaster.com on Nov 25, 2014